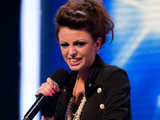 X Factor
producers have reportedly been told to keep an eye on contestant
Cher Lloyd
after friends expressed their concerns that the show could "break her".
Since Lloyd's initial audition, in which she impressed judges with her rendition of Soulja Boy's 'Turn My Swag On', the 17-year-old singer is said to have become frail and nervy.
An insider told the
Daily Star
that Lloyd was receiving "a bit of special treatment" to help her through the competition.
They said: "She is new to this, like all the contestants, and because of her age we are making sure she is prepared for what could happen to her. But if we thought she would suffer in any way in this contest we would not have put her through."
Friends of the teenager from Malvern, Worcestershire are apparently worried that Lloyd could collapse under strain.
A source said: "
The X Factor
is a big deal and you do need nerves of steel to get through it every week. Contestants are separated from everything and everyone they know and are expected to work long and tiring days to prepare.
"Cher is from a small town and has a tight-knit group of friends. She is also from a huge family that everyone in Malvern knows, and she will hate being without them all. She will be a nervous wreck, we just hope it won't break her."
Simon Cowell has previously
spoken highly
of the young singer, describing her as a girl who has "got it together".