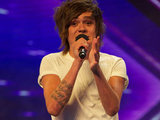 X Factor
auditionee Frankie Cocozza has been compared to Robbie Williams after giving a cheeky audition for the judges, which included flashing his bum for
Tulisa Contostavlos
.
Brighton-based singer Cocozza will appear in the series eight launch episode, which airs this weekend. Speaking to Dermot O'Leary, he brags that his primary reason for taking part in the show is to "sleep with as many women as possible" and describes himself as "mental" and "a liability".
"I look forward to the cars and the showing off," he grins. "The lady judges may get a couple of cheeky winks if they're lucky."
During his interview with the judges, Cocozza admits to having seven girls' names tattooed on his bum following a summer stint in Malia.
An intrigued Tulisa calls his bluff, commenting: "How about... I don't believe you!"
Cocozza takes up the challenge and reveals his bum cheeks - which are inked with the names of seven girls - to the entire audience.
Kelly Rowland laughs: "I freaking love the UK, you came on, you showed your ass. You've got to love it."
However, Cocozza doesn't just entertain the female judges as Gary Barlow and Louis Walsh are impressed by his rendition of The Zutons' hit 'Valerie'.
Barlow says: "Stage presence, Rod Stewart vocals. I think people are going to love you." Meanwhile, Walsh describes him as "a bit of a young Robbie [Williams]" and a "cheeky chappy".
The X Factor
airs on Saturday at 8pm on ITV1.
Watch
Digital Spy
's interviews with the
X Factor
judges below: