X Factor
's
Kitty Brucknell
has predicted that she will have fame and fortune after her hit audition.
Brucknell, who has been compared to Katie Waissel because of her kooky stage persona, initially wows the judging panel with a rendition of Lady GaGa's 'The Edge of Glory'.
"I've had a lot of nos in my life. I've reached the age of 26 and I want to give this my best shot. I don't want any regrets. I'm just going to go with it," she tells the panel.
Gary Barlow praises her performance, commenting: "Kitty, that was a great audition. You gave us the hard, the soft, the medium. You filled the whole of the O2, the audience loved it."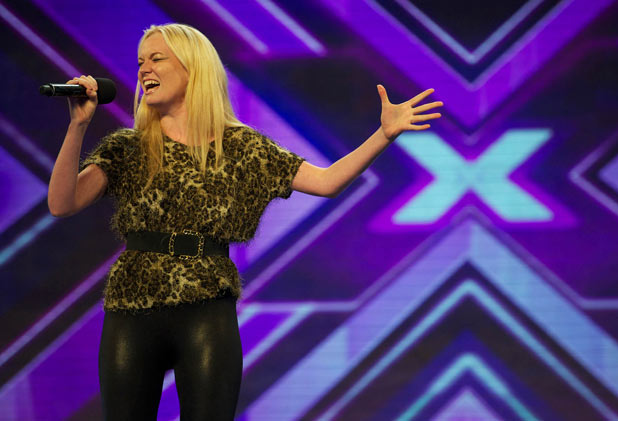 However, when Brucknell then starts rambling on the stage and sits on the floor, the judges become concerned by her change in personality.
The singer, who claims she wants to call her debut album
Diva Glam Pop
, is warned about her sudden burst of confidence by Kelly Rowland.
"Kitty, I want you to remember the girl who went through all of those nos. And remember that place you were when you got here. Don't lose who that girl is. If you lose her and get too familiar, you will lose everything," says the US star.
Afterwards, Louis Walsh sticks up for Brucknell, arguing: "Some of the biggest artists in the world are the most complicated."
Backstage, Brucknell is overwhelmed by her audition success and tells a young fan in the audience that one day they will be able to sell her autograph "for loads of money" on eBay.
"This is the crazy part where the press start chasing you down the street and I get evicted because there are too many paparazzi waiting outside my house," she says. "But you know... the fame."
Series eight of
The X Factor
starts tonight at 8pm on ITV1.
Watch
Digital Spy
's interviews with the
X Factor
judges below: