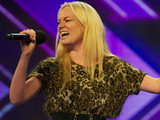 X Factor
's
Kitty Brucknell
has been accused of taking illegal diet drugs.
Brucknell, who divided viewers with her opening audition on
last week's launch show
, has left Facebook messages about the benefits of the hCG diet. hCG is illegal to buy, but is available from online retailers in various forms.
"Oh my god. I've lost two inches from my hips in five days. This diet rules," she wrote on the social network site. "hCG. It's amazing."
Later, she added: "This diet will literally CHANGE YOUR LIFE. All of those who knows me...it freaking works...I have a six-pack...omg didn't even have this with lipo. hCG Rules."
Brucknell is also alleged to have spent £3,000 on liposuction, according to
The Mirror
.
The part-time
Britney Spears and Lady GaGa impersonator
said in a statement: "I have a healthy approach to food and diet and I am really happy being a size 10. I have dieted at times in the past but no more than the average person."
An
X Factor
show rep said that medical and psychological care was available for all contestants throughout the series.
> 'X Factor' Kitty Brucknell worked as detective's honey trap girl