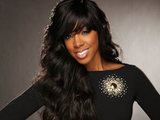 X Factor
bosses reportedly called the police after jet ski riders persisted in interrupting filming of the reality show.
Kelly Rowland
is currently at a Miami beach house,
where she and Jennifer Hudson
are choosing which four singers to take through to the live shows.
However,
The Sun
reports that filming was brought to a halt due to the noise of the jet skis being used outside of the property.
"This guy was doing it on purpose. He kept waving and we had to call the police and eventually he left," Dermot O'Leary told the paper. "The cops are like
Miami Vice
, and they sorted it out. We did have to stop filming for a while though."
Destiny's Child star Rowland reacted to another disruption on Sunday, before police dealt with the issue.
The 30-year-old has
revealed that she will place her finalists on a strict no alcohol
, no smoking and no partying ban.
"I didn't go out until I was at least 22 and I didn't party until two years ago," she said. "I've always been strict. I don't drink a lot, I don't smoke, I want to succeed."
> Kelly Rowland: 'I want X Factor singers to be better than Beyoncé, GaGa'
> Kelly Rowland releases new single 'Lay It On Me' music video footage
Watch Lascel Wood's
X Factor
audition: