3
Reality TV News
'X Factor' Kitty Brucknell: 'I've never been fake'
Kitty Brucknell
has insisted that she has been "real" during her spell on
The X Factor
.
The singer was saved by over-25s mentor Louis Walsh on last night's results show
when he decided to send home
Sami Brookes from his two acts in the bottom two.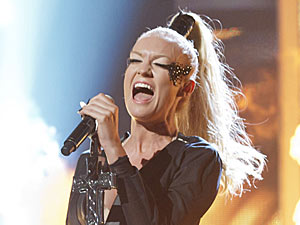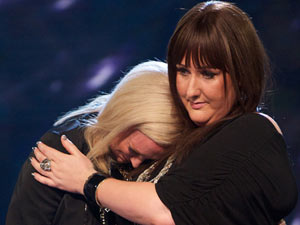 Responding to comments on
Twitter
after the show, Brucknell said: "I cried because I didnt want louis to have to choose between us, I seriously Iove Sami she is a true friend. (sic)
"How would you feel if you had to fight your best friend for something. Was horrible."
Of claims that she faked her tears, she continued: "Why do you think I'm pretending? I don't understand what the hell people mean when they say that.
"Why do you think I was 'crying for sympathy?'. Sami was my best friend how the hell am I supposed to react? I can't win with you!"
When one follower asked her to watch footage of last year's controversial contestant Katie Waissel, Brucknell replied: "The difference is that I have been real the whole damn time. I am not fake, never have been."
> Kitty Brucknell: Five reasons why she should win The X Factor
> Kitty Brucknell: 'I just want to offend people'
Brucknell was criticised after it
emerged that she has appeared on a number of TV shows
in recent years and performs worldwide as a Britney Spears and Lady GaGa tribute act.
She has pledged
to give "the middle finger" to her critics
as she continues on this year's show.
Brucknell has
admitted that she is "a diva"
and suggested that
The X Factor
is her "last chance" to gain success in the music industry.
> Kitty Brucknell wants Simon Cowell X Factor return
> Kitty Brucknell 'wants to perform with pythons and lions'