6
Reality TV News
'X Factor' Janet Devlin reveals Red Hot Chili Peppers, Beirut passion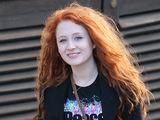 Janet Devlin
has claimed that Red Hot Chili Peppers would be her dream
X Factor
duet.
Devlin, who remains one of the bookmakers' favourites to win the 2011 series crown, said that she is a big fan of the US rap-rock outfit.
Red Hot Chili Peppers - who include Anthony Kiedis and Flea - released their tenth studio album
I'm With You
earlier this year.
The Northern Irish teenager also namechecked New Mexico indie band Beirut in her latest official
X Factor
video diary.
Devlin claimed that Beirut's 2007 track 'Elephant Gun' would be her favourite song to perform on the ITV1 talent show.
Listen to Beirut's 'Elephant Gun' below:
Speaking about her performance on this weekend's
X Factor
Halloween special, Devlin added: "I've taken a really, really well known song and because it's Halloween, I've twisted it and made it spooky."
> 'X Factor' Janet Devlin: 'Digital Spy forums can be cheeky'