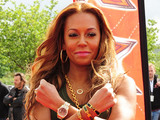 X Factor
hopefuls
Tae Blondo
have claimed that they were set up by producers on the show.
The girl group have stated that staff insisted they wear their 'Stars and Stripes' hotpants and sing a cover of 'Sweet Child O' Mine' by Guns N' Roses.
They have also claimed that their conversation about guest judge Mel B was edited to make it seem as if they were scared of her.
Mel B later criticised their "Playboy Mansion" attire on Saturday's launch episode (August 18).
Lead singer Beth Wilson told
The Sun
: "Mel told us, 'You look like you belong in a Playboy mansion', and said the song was dated. Yet they were the two things they knew we would do.
"The producers also asked us to talk about Mel B, then edited it to look as if we were scared.
"They've obviously done it to make Mel B live up to her reputation as Scary Spice. It was clearly a set-up."
An X Factor spokeswoman responded: "Contestants make their own decisions about what to wear and what to sing."
Mel B is reportedly
wanted by X Factor producers to join the show on a permanent basis next year
.
The X Factor
returns on Saturday, August 25 at 7.45pm on ITV1.