Scouting for Girls
believe that
The X Factor
has "had its day".
Frontman Roy Stride praised
The Voice
UK, explaining that there is more to being a musician than the glamour shown on
The X Factor
.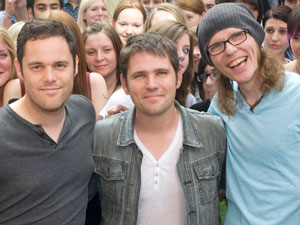 "We've written songs for One Direction and ­Alexandra Burke but we reckon
The X Factor
has had its day. There's some good talent on the TV but it just doesn't create real artists," he told the
Daily Star
.
"It's basically an audition, the same as West End musicals, just with more glitz and glamour. The best music comes from people singing music which means something to them.
"You have to buy into an artist and get a sense of feeling what they feel, rather than see someone good-looking singing someone else's songs. The BBC's
The Voice
was more about the music.
"We'd love to be judges on that show. My only experience was as a guest judge on
The X Factor
in Holland and I was too nice. One guy who auditioned was blind and, because he had a sob story, I went, 'Yeah, that was great', when he was absolutely awful."
Scouting for Girls recently announced a
full UK tour for October
. Their new album
The Light Between Us
is out now.
Watch Scouting for Girls' video for 'Summertime in the City' below: