Geri Halliwell accuses Take That's
Gary Barlow
of being "intimidated" by her when the pair clash on this evening's
X Factor
.
The duo have a war of words over girl band The IT Girls, who describe themselves as Spice Girls fans. The group say they want to bring back "girl power" and cover the Spice Girls hit 'Stop' for the judges.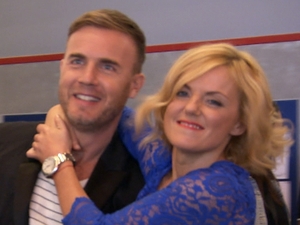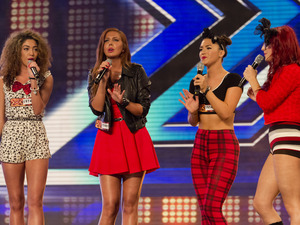 However, Gary Barlow isn't impressed by their performance, commenting: "There's barely a voice amongst you."
Halliwell attempts to interrupt Barlow's comments, but he quickly fires back: "I'm talking, Geri, I'm talking."
Taking a swipe at her co-star, the Ginger Spice tells the girl group: "You've definitely got potential. Not everybody in Take That could sing. Sorry, I'm just being honest."
Louis Walsh defends Barlow, sniping: "Hey Geri, not everybody in The Spice Girls could sing."
Halliwell adds: "Gary, when I first started I could not sing, I can sing now. Two of your members could not sing."
A stunned Barlow comments: "Geri, don't even go there!"
Walsh continues to chime into the conversation, heckling: "You had five [non-singers]!"
Speaking afterwards about their rivalry, Halliwell declares: "I mean, I know that I'm competitive but Gary hides it, I'm just more honest about it.
"I think he's intimidated because you know, I sold more records."
The X Factor
airs tonight (September 8) at 8.10pm on ITV1.
Photo gallery - The X Factor show four:
Copyright: ITV Thames/Syco