X Factor
hopeful
Rylan Clark
has promised that his first Live Show performance will have a show-stopping "futuristic Egypt" theme.
The Essex-born singer has divided public opinion during the early stages of the ITV1 show, but after being picked for the final stages by judge Nicole Scherzinger, Clark vowed to prove his doubters wrong.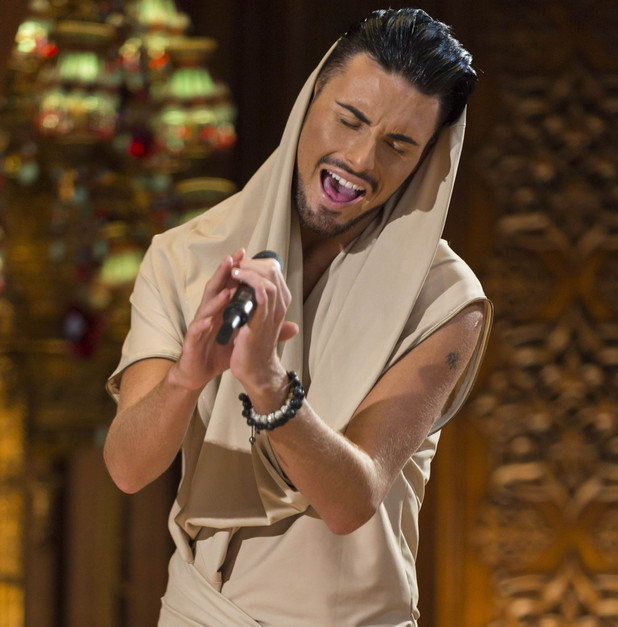 "I've had a tough time with the press and Twitter, but I've had some great advice and chats with Nicole," said Clark.
"She validates the reason that we're here and she makes us know we do deserve this spot. I know I've got more to prove than anyone this weekend, but I've worked my arse off these three weeks. I'm ready to show people what I can bring to the table."
Scherzinger commented: "I told Rylan the other day, 'I've lived through it, I live through it every day'. Do not pick up the papers, don't read them. It does not define you. 99% of the stuff isn't true. For me, the way I get through it - I know who I am. Everyone else is talking hogwash and doesn't know what they're talking about."
Copyright: Rex Features Photofab/Rex Features
Speaking about his plans for this weekend, Clark teased: "This is where the hard work begins for me now. Performance is what I do. My worst fear is standing alone with a microphone not doing anything, but I've got through that now at Judges' Houses and Boot Camp.
"I've got so much in store this weekend, it's going to be an incredible show. We're off to a futuristic Egypt . There is a throne. And there are a lot of naked men."
Laughing at the flamboyant act, Scherzinger joked: "Are there camels?"
The
X Factor
Live Shows kick off on Saturday (October 6) at 8pm on ITV1.
Watch Gary Barlow and the Overs talking to
Digital Spy
below: