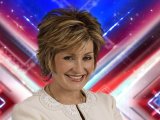 Chris Moyles is on call to replace Sharon Osbourne if she really quits
The X Factor
, it has been reported.
Osbourne
threatened
to leave after two of her contestants were voted worst on Saturday's show, with Kimberley Southwick being ejected.
She told Dermot O'Leary she had failed: "What I did was no good, and I think I'm going home now, Dermot."
The
News of the World
reported that if she sticks to the claim she could be replaced by Moyles.
A source told the newspaper: "At this point in time Sharon has said she is no longer a judge on
The X Factor
. We are hoping she will be able to sleep on her decision and calm down.
"Chris Moyles has made it clear he's on standby if Sharon or Louis Walsh walk out at short notice. Simon Cowell is likely to take him up on that offer."