Louis Walsh's shrill "you're... the... next.... big... boyband" cry has become a gleeful addition to any
X Factor
Bingo/Drinking Game over recent years. His squeals of glee at last year's cherubic pop upstarts One Direction became so predictable, they went beyond parody and became gloriously surreal.
Sadly for bobbins five-piece Nu Vibe, even Louis Walsh has his limits. Show rivals The Risk were granted the Irishman's Westlife-shaped stamp of "next big boyband" approval, but after a cover of U2's 'With or Without You' - one even the most zealous Bono-despisers would have found distasteful - the boys were snubbed by Uncle Louis. He rebranded them No Vibe. Witty.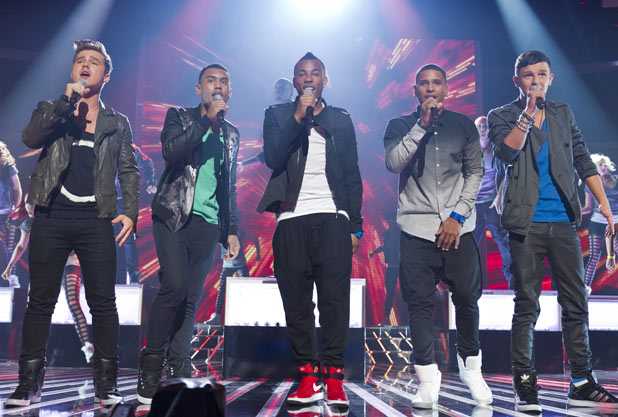 Just to rub things in for the lads, Gary Barlow robbed Louis of his gag and repeated the insult a minute later. Just in case, they didn't already feel ridiculous enough after picking up insults from a man who has championed the likes of Wagner and Jedward as musical saviours in previous series.
Not even Frankie Cocozza's pub-singer drone at its most wheezy and flattest could save the Vibe-boys, who will find themselves sitting in the shelves of
X Factor
history alongside Eton Road and Futureproof rather than JLS or One Direction.
While on the subject of Cocozza, we're more than a little relieved that we're not the only viewers who have failed to spot the charms of the lad with cat-lady hair and jeans so tight that they make every note he sings sound like the final groan of an injured badger.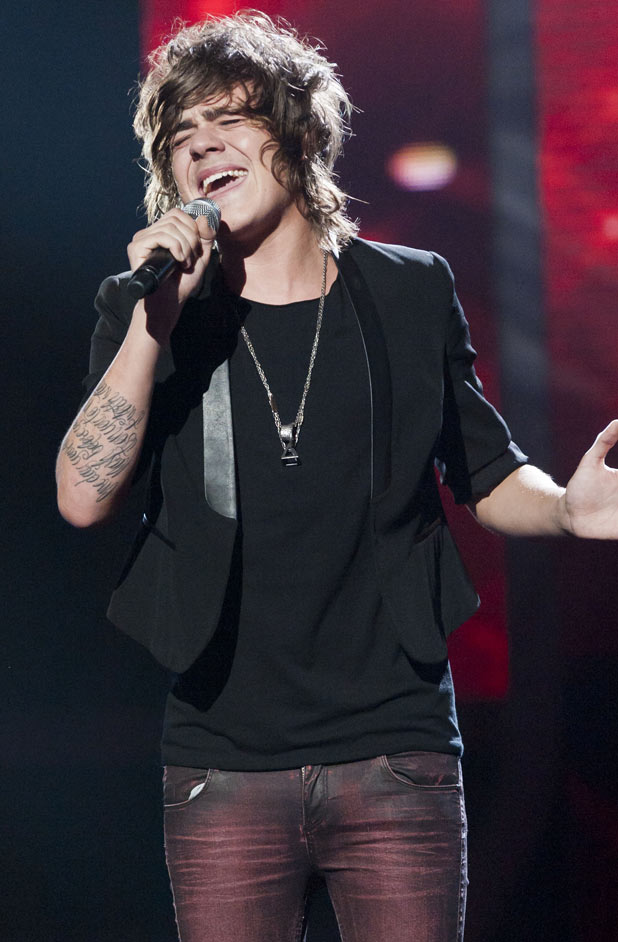 The way Gary Barlow speaks about his "popstar" Cocozza, you'd thing a lad was stood on the stage with the magnetic charisma and enigmatic charm of some sort of James Dean, Liam Gallagher and Steve McQueen hybrid.
It's not Frankie's fault he's a rubbish singer. From his first audition, his best attribute was his pert buttocks. Gary and the other judges must take the blame for any disappointment in him being in the bottom two. They saw popstar magic in him. Viewers don't.
While Frankie and Nu Vibe were battling for the wooden spoon, the top of the
X Factor
leaderboard is starting to take shape.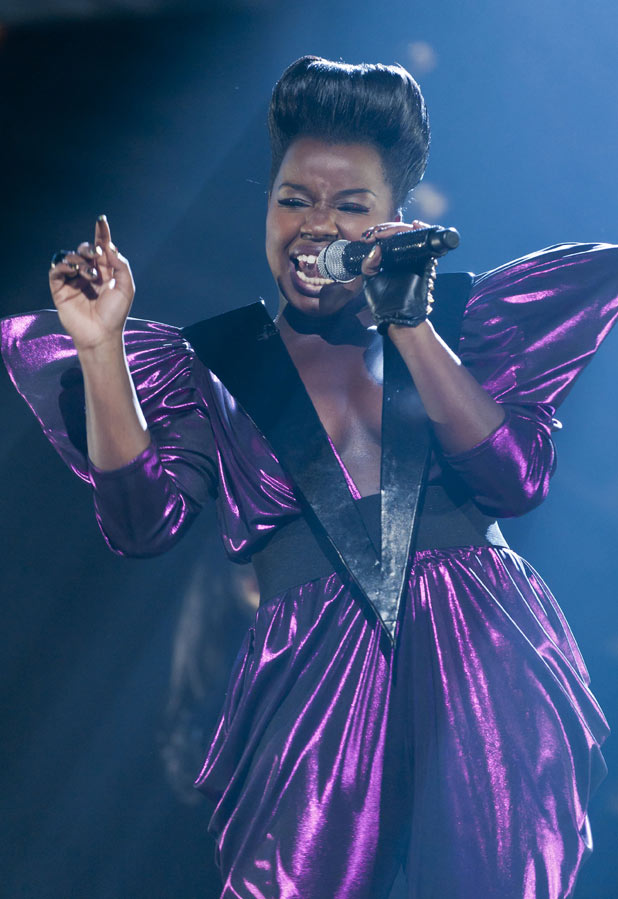 Misha B proved that she could put on a show, even while dressed as a cross between General Zod and 'The Purple One' from a Quality Street tin.
Janet survived a classic Elvis number unscathed and turned down the prodding and poking of the judges and Dermot to cry on demand as they brought up her late grandfather. Kudos also goes to the Devlinator for her revelation that she grew up as a metal fan. Roll on the Judas Priest theme week.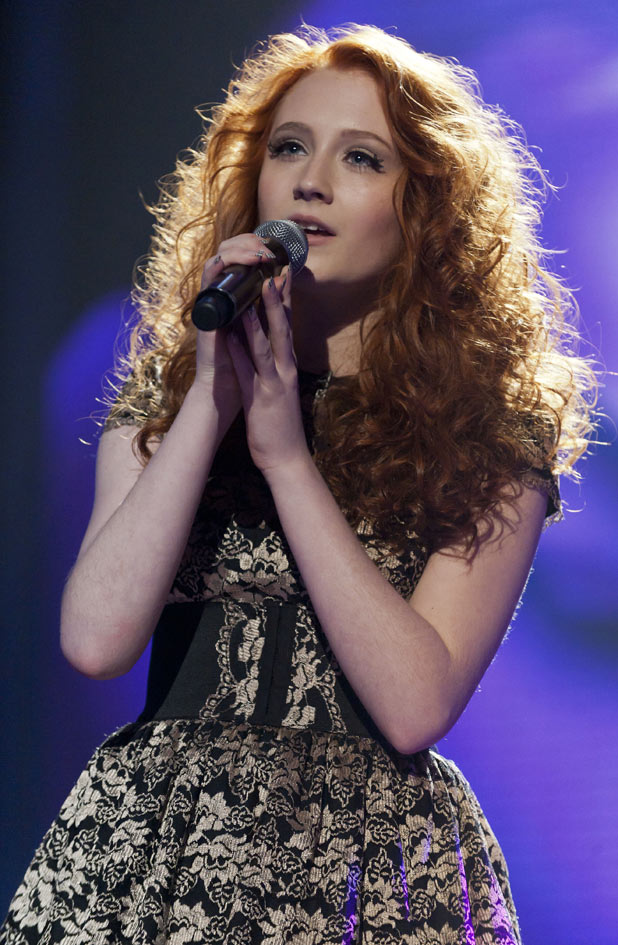 Craig and Marcus continue to duke it out for the title of Barlow's 'Top Boy' and former Iceland worker Craig is currently winning on points. Marcus might be helped if he was given a song and an outfit by Barlow that didn't make him look like a Genesis-era Phil Collins tribute act and sound about as musically current as a George Formby banjo solo.
The Risk look the group most likely, although we're still not totally convinced they know each other's names yet. We definitely don't. Rhythmix have the mixed blessing of being "
X Factor
's greatest ever girl group", while also being only the second best group in the competition.
Tulisa's wild-eyed, chest-thumping, desk-banging rants about what "these four girls represent" probably don't do them any favours either. They're not Emmeline Pankhurst, Tulisa. They just rap a bit.
The shock of the night - for the second week in a row - came from Kitty Brucknell. Her humble chats with Dermot are about as sincere as a politician promising to tax you less, spend more and offer free puppies to every household. She's got more issues than a BlackBerry technician dealing with the latest email crash. And you'd probably rather live in the Big Brother house with all of your ex-girlfriends and potential mothers-in-law than have to shack up with the Lady GaGa fanatic. But boy can she sing.
Would it be wrong to pick an
X Factor
winner who will entertain us and who understands the importance of the silly and strange in pop? Or do we want another Matt Cardle? I know which I'd prefer and it involves Kitty barking out the Christmas number one in a giant bumblebee suit on
Top of The Pops
. You know it makes sense.
The X Factor continues on Saturday at 8pm on ITV1.
> The X Factor Show 1 recap: 'It was like karaoke night in Romford'