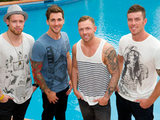 The Reason 4 - Nathan Rawlings:
This week the judges were having an all-out war with each other over song choices, acts, what's rock and what's not. So it's Rock Week. This is usually where the UK
X Factor
falls short for me. The only act that could put their own stamp on Rock Week would be Amelia but she went in the first week!
---
Girls: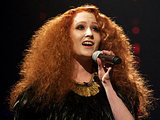 Janet Devlin:
'Sweet Child O' Mine'
Fitting song as Janet is the sweet child of this show. She never fails to give a song her own mellow twist and it was the same this week. My only worry is that she is a really natural pretty young girl and all the hair dye styling and make-up does not show who she would be if she was signed and singing in her own right. Let the kid be herself. Not everyone needs four tonnes of hairspray and make-up to be an artist. (7/10)
Misha B:
'Purple Rain'
This is possibly my all-time favourite Prince song and I loved her version of it. As the judges mentioned she may be a diva behind the scenes, but a lot of the great female artists are. We have all heard the Mariah and J-Lo backstage horror stories and impressive demands, but that's up to whoever decides to manage her. Judge her performance just like Gary said. (8/10)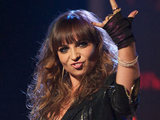 Sophie Habibis:
'Living On A Prayer'
Sophie has had a bit of a quiet start to
X Factor
and I do think she is still missing that little spark of magic. It was a lovely ballad version of the song. Very close to the limit of her vocal range at times, but she looked pretty hot all in leather. (6/10)
---
Boys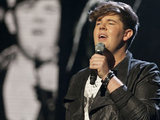 Craig Colton:
'Stop Crying Your Heart Out'
I really think Gary understands his acts and what they want to achieve on stage and as artists. Craig is easy work for Gary. He is really likeable and has a knockout vocal week in week out with his cheeky diva style smile. Great job and still one of my favourites. (8/10)
Marcus Collins:
'Are You Gonna Go My Way'
As I have said every week I do really like Marcus, but I do think he is struggling to find his own style. Not with his clothes, but with his voice. I'm still waiting for that wow factor that he definitely has in there. He has an awesome voice, but everybody has a certain thing that really shows their vocal off. That's why shows like this can make or break an act. If the songs don't fit then it's all over. (6/10)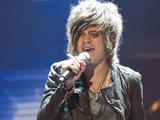 Frankie Cocozza:
'Rocks'
I really thought this would be Frankie's week. He had a great old school rock star entrance and owns the stage with his boyish charisma. But Kelly is right, vocally he is way behind the other acts by a long shot. As far as getting drunk and getting papped with girls, why not? If you pay for a young newly famous kid to go drink and tell the papers where he is gonna be.... don't moan about the outcome! (6/10)
---
Overs: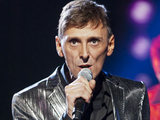 Johnny Robinson:
'I Believe In A Thing Called Love'
Oh Johnny.... when I saw a tweet from our producer Eliot Kennedy saying it was gonna be Rock Week, I would have bet my house on Louis picking this song for you! I do feel for Johnny because he really does not want to be the novelty act. But with his camp personality and high pitched voice, not to mention Louis obviously picking the clothing, I'm not sure he will shake off that label. I say just go for it - embrace it. We met the amazing Jedward this year and they are the busiest act in music at the mo so enjoy it. (6/10)
Kitty Brucknell:
'Live & Let Die'
I think Kitty is like Marmite - you either love or hate her. There is no denying she puts on a good performance, I just don't think she is great vocally. It's a bit shouty for me and the whole GaGa style piano then jump around with fire behind you is treading dangerous ground. Lady GaGa is one of the most talented people musically and vocally we have seen in the last few years. I don't think Kitty has what it takes to rival her. Sorry guys, just my opinion. (6/10)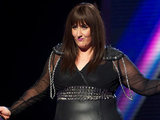 Sami Brookes:
'Turn Back Time'
I did feel for Sami this week because she really did not want to do a Cher song and I can see why. She has without a doubt got the biggest voice in
X Factor
this year, but I have got to agree with Gary again - it is all a bit cruise ship for me. But the same as Johnny, I don't think she will shake that off regardless of the song choice. I think she should embrace it. There is some serious cash and a great career to be made doing cabaret style singing for a living and it's doing what she loves every day. (6/10)
---
Groups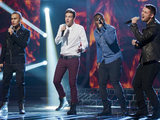 The Risk:
'Crazy'
I know people are gonna be saying, 'Nath, take your tongue out of Gary's arse!' But he is right again. I'm not sure Tulisa really understood the challenge this week. But regardless of the judges' banter, I still really back our boy Charlie and The Risk lads. It's not as easy as you might think to learn a new song every week and be really tight on the harmonies when you don't really know each other. Good job lads. Do it for the boy bands! (7/10)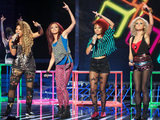 Rhythmix:
Ke$ha/Salt 'n' Peppa mash-up.
I still think these girls have got a shot. They are fresh and fun and no it was not rock, but oh well. Bands have a slightly harder job than solo acts because there is not just one lead vocal to learn and they have to create chemistry from scratch. But as Take That, The Wanted, Boyzone and the Saturdays have proved, manufactured bands can really work. So good luck girls. (6/10)
Nathan's Top 5:
Craig, Misha B, Janet, The Risk, Rhythmix.
The Reason 4's debut album Crying Out Loud will be released in January 2012 and they have just been announced as the main support on Joe McElderry's UK tour