Isn't it Halloween week every Saturday on
The X Factor
? Apparently not. This week, we got even more scary sights and bonkers stage shows as the acts shovelled on the eyeliner, frills and facepaints to get into the spirit of All Hallows' Eve.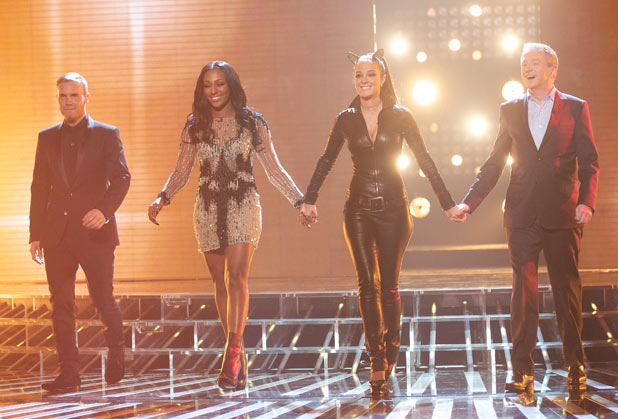 Even the judges joined in the fun. Tulisa whacked on a saucy cat suit. Louis came as himself, which is suitably scary for any occasion. And Kelly Rowland came as Alexandra Burke. Of course, we're being silly. It really was the former
X Factor
champ sitting at the judges' table. El Burko was filling in at the last minute for Kelly who had a bout of surly-itus and stroppy-throat and couldn't make it.
Even Dermot got into the swing of things, performing a dodgy drunken uncle dance routine with some scantily-clad ladies as part of the intro. There was definitely some added razzle in Derm's dazzle when he did that trademark spin.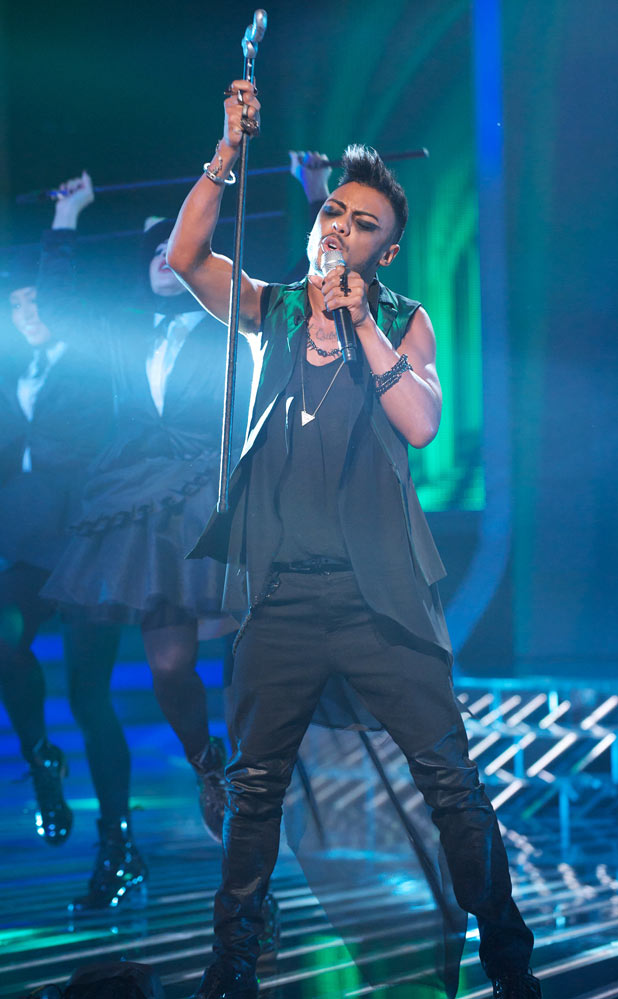 Halloween brought out the best in the majority of the final 10. Marcus is slowly finding his foothold in the competition and is getting his hands stuck into the make-up team's bag of goodies more and more. His 'Superstition' and 'Need You Tonight' mash-up marked him as a strong contender. We also loved his comedy dancing stick. More props please!
Kitty was inevitably in her element. Literally wheeled out and set on fire for a devilishly dark 'Sweet Dreams', she is slowly becoming the most fascinating
X Factor
contestant of all time. Utterly dislikeable and irritating in so many ways, but yet so intriguing and excitingly uncontrollable in others. Let's hope she can last the course.
Janet and Craig remain the most likely victors, pulling in steady performances week after week and doing what's known in the biz as 'a Joe McElderry'. Craig's chubby cheeks and hair-that-you-just-want-to-ruffle probably edges him ahead of Janet, whose left-of-centre music tastes (Beirut? Cornershop! Heavy metal?!) will probably make her too much of a risk for the grannies with their fingers on the speed dial.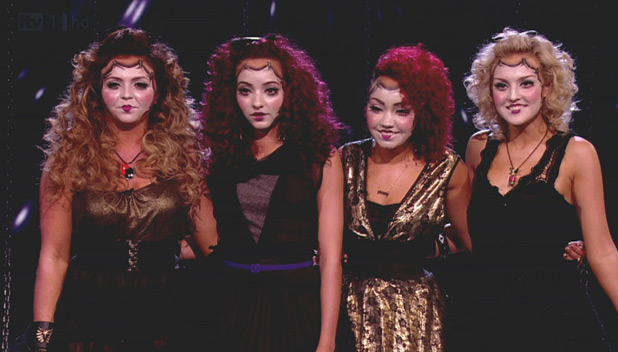 The Risk have lost a member (don't worry, it wasn't the one with the baseball caps or the really good singer, it was one of the other two. You know, the other one. No, not him, the other one). They replaced the departee with a spare offcut from rejects Nu Vibe called Ashford. Ashford has brought the disjointed, wobbly harmonies of his former group and the The Risk have taken five steps back in the competition.
Rhythmix now look like Tulisa's frontrunners. And we're not allowed to say anything mean about the girl group now or else they may cry. So we won't.
Frankie Cocozza continues to do his best to suck every last remaining shred of credibility and respectability of Gary Barlow and is gradually morphing into a Viz-esque caricature (Frankie Cock-A-Load-A-This-Ladies?). There's lots of talk of "'avin it" and "bangin' it", but sadly he still sounds like a balloon slowly deflating with a silly Russell Brand wig on.
Frankie's keeping his fingers crossed for a Pete Doherty or Shane MacGowan theme week that will allow his drunk tramp singing to flourish. Sadly for him, it's Club Classics next Saturday.
Sophie Habibis
was the act to leave on Sunday night, suffering from a case of the John Adeleyes (previously known as the Rachel Adedejis), as she wilted into the show's background. Louis Walsh fired the killer bullet on Saturday night, branding her a "singing secretary". The secretary who types up Louis Walsh's correspondence and replies to his fan-mail (written by Jedward) should probably think about a change of occupation.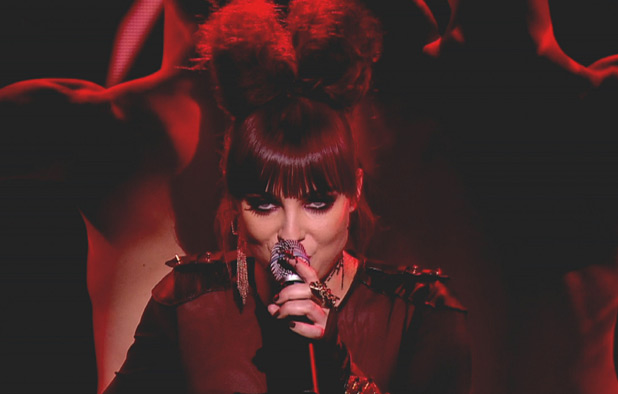 The arrival of Burke on the panel was the highlight of the weekend for me. Playing a drunk
Spitting Image
version of Kelly Rowland, she burst into evangelical speeches, slapped down Louis Walsh with bizarre yoof speak (OK dot com) and occasionally sounded like she was having a stroke ("you brought that little somthin', somthin'"). Amazing.
All the previous winners should be granted roles on the show in the future. Leona could co-host with Dermot, Shayne Ward could get a gig on
Xtra Factor
. Steve and Leon would be delightful as stage hands and warm-up men. And Matt Cardle would be a dab hand at cleaning out the bogs.
The X Factor continues next Saturday at 8pm on ITV1