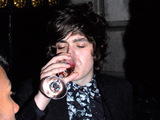 To the delight of many
X Factor
fans, this year's most controversial contestant
Frankie Cocozza
was yesterday
removed by producers
for breaking one of the show's
'golden rules'
.
It's fair to say that most reality show contestants don't exactly have a great reputation, so when a fame-hungry wannabe is deemed so terrible that they simply can't be kept around another second longer, clearly something big has gone down.
In the case of Cocozza, it was
his alleged drug-bragging
that finally ended his
X Factor
dream, but as
Reality Bites
is about to remind you, there's plenty of other ways to earn yourself an unceremonious ejection from a UK reality show.
Emily Nakanda - The X Factor (2007)
Cocozza's shock boot is by no means the first time that
The X Factor
has had to dump someone over their wayward behaviour. While our Brighton-born baddie was packing up his vests and a 12-pack of Durex for Judges' Houses earlier this year, promising hopeful Sian Phillips was left behind due to a
previous conviction for affray
.
Her embarrassing transgression may have been swept under the rug easily enough, but there was no hiding series four finalist Emily Nakanda's 'starring' role in
two 'happy-slapping' videos
. Officially, the then-15-year-old
decided to quit
over the controversy, but reports suggested that Simon Cowell
demanded she leave
.
'Nasty' Nick Bateman - Big Brother (2000)
Back when Cocozza was just some snotty 7-year-old playing with his Action Men, 'Nasty' Nick Bateman was out scandalising the entire nation with his attempts to manipulate the nominations in the debut series of Big Brother.
Bateman's big crime really was taking the 'game' part of this gameshow more seriously than his fellow housemates or the millions of others who just wanted to see a few people lazing about, getting along. He may be one of the best-behaved villains in reality TV world, but there's a reason that 'Nasty' moniker is still hanging around.
Alexandra De-Gale - Big Brother (2008)
There's been enough Big Brother ejections over the last 12 series to warrant a whole dedicated article, so we'll make this the last one. But which infamous misdemeanour warrants a place here? Emma from BB5 or Dennis from BB9 throwing punches and spitballs respectively? Emily's 'N-word' gaffe in series 8?
For us, the baddest of the BB bad has to be Alexandra De-Gale from the 2008 edition, who was
thrown out after just 14 days
for bringing up her "gangster friends" and simply being too gosh-darn terrifying to live with.
Two contestants on Red Or Black (2011)
OK, so we don't know who
the two players
were or what they did, and
Red Or Black
may not technically be a reality show, but we doubt there'll be any quibbling about this entry. Controversy-machine Simon Cowell was faced with his most challenging week yet when he somehow managed to award £1,000,000 to a man
jailed for assaulting his ex-girlfriend
. Nathan Hageman
refused to hand over a penny of his winnings
to his victim and
nobody had any right to take the money off him
.
It sparked the firing of two potential millionaires-to-be in a desperate attempt at damage control. The axe may have fallen on the unfortunate duo, but Cowell was clearly aiming for Hageman's neck.
Jim Davidson - Hell's Kitchen (2007)
Somewhere between appearing in Big Brother and presenting it, Brian Dowling ended up competing in celebrity cooking contest
Hell's Kitchen
. And who did producers think would be an ideal co-star for a man as camp as a particularly effeminate Christmas? Why the very un-PC comedian Jim Davidson, obviously; apparently Bernard Manning wasn't available.
Unsurprisingly, interactions between the two started becoming too toe-curling for comfort, as Davidson tripped helplessly over his own ignorance and learnt that the kind of chat that plays in pavilions will get you
kicked out of an ITV reality show
.
(clip begins at 3:14)
Which reality TV ejection left you lost for words? Did Frankie Cocozza deserve to be axed? Leave your comments below!