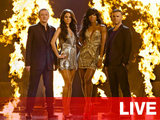 X Factor
switched it up a notch last night as the final six acts attempted to book themselves spots in the quarter-finals. Little Mix soared, are storming the
Digital Spy
Movies Week poll and now look like genuine contenders.
Marcus Collins and Amelia Lily remain the solo acts most likely to win, with more barnstorming performances. Misha B continues to impress the judges and Twitterati, but will she continue to make little impact on viewers' phonebills?
Craig Colton and Janet Devlin have never been in the bottom two before, but with the competition getting fiercer by the week, have they reached the end of their journeys?
Tonight's show will also feature special guest appearances from
X Factor
's naughtiest ever special guest Rihanna (
Daily Mail
readers, get that Ofcom number on speed dial) and
X Factor
2010's finest (in our opinion) contestant - Rebecca Ferguson.
Join
Digital Spy
from 8pm when we'll be live blogging all the drama.
21:00:
That's all folks. Let us know what you think about the verdict at the bottom of the page. Shocked? Appalled? Pleased? I'm off to have a third slice of key lime pie and settle down with Flack and Murs on
Xtra Factor
. We'll be back next Saturday - see you then!
20:56:
DEADLOCK. DUSH-DUSH! The final result.
Craig Colton
is heading home. The world of Twitter explodes with gags about him "going back to the biscuit factory". Gary looks pretty mugged off, but promises to always be on the end of the phone for Craig. Craig says that he had "the time of my life". Nice to see he's keeping it in the movies theme even in the elimination.
20:53:
When did my man crush on Gary Barlow properly end? Tonight. The judges are split. Tulisa sends home Amelia. Louis sends home Craig. Kelly is gracious. Gary Barlow throws out a barb about Amelia "shouting". Very uneccessary in a sing-off. It's against
X Factor
etiquette as far as I'm concerned.
20:46:
Craig Colton's a very sweet lad, but he's been outperformed, out-niced and had the mum-vote robbed off him by Marcus in recent weeks. He doesn't half have a pair of pipes on him though, does he? He delivers 'Will You Still Love Me Tomorrow' splendidly and despite looking like a boy who's had his last Rolo stolen gets through it without shedding a tear... yet.
20:51:
Amelia Lily matches Craig, big note for big note. Not sure about her outfit tonight. It looks like she's dug Rikki Loney's bowler hat out of the Fountain Studios dusty props cupboard.
20:43:
For the first time this series, there's a sing-off that I really can't call. Will be nice to wheel out the Deadlock sound effect. I've missed it. The decision lays at the hands of Louis and Tulisa. I suspect Louis will back Amelia. I've no idea where Tulisa stands on the tearful pink-haired belter and the quivering bottom lip of the biscuit boy.
20:39:
The acts going through in no particular order (other than the evil producer's chuckling pleasure) are Misha B, Little Mix, Marcus and Janet. The bottom two are Amelia Lily (which is a mild surprise) and Craig Colton (less of a surprise).
20:38:
Judgement time. The judges bring out their acts.
Louis Walsh
twiddles his thumbs and picks his nose at the judges' desk.
20:32:
Rihanna's guest performance in bite-size chunks. She's dressed. Suitably. She can't be arsed to sing. Actually, she can't even be bothered to mime for half of it. Awkward Dermot chat. Massive plug for the single. It's awesome for the sheer cheek of it.
20:29:
Louis Walsh is on top form tonight. "Little Risk, Little Miss, Little Risk." Life was so much easier for Louis when girl groups on
The X Factor
were named Girlband.
20:24:
Dermot does his bit with the judges. Gary is still thumping the desk and pointing his finger about judges not giving "proper critique" and moaning about song choices. Let's summarise Gary's critique of Janet for a moment. "Do something different. No, don't. No, do. No, don't. No, do... etc etc."
20:19:
Rebecca Ferguson time. She still looks lovely. She still sounds heavenly. For three minutes the nation holds its head in shame and everyone tries to pretend that they didn't vote for Matt Cardle. We know who you are!
20:15:
Highlight of the show so far? A close-up shot of a man's legs running across the stage when Dermot's talking to the final six. This is the nation's biggest and most lavish TV show in action!
20:12:
Time for the "walking down the corridor" judges clips in between a recap of the performances. Our personal highlight? Louis Walsh's audition for
Film 2012
. "It wasn't even a good Bond movie?" Lots of tears and ill feeling last night. Craig, Janet and Misha are all getting a rough time from the judges.
20:07:
Group song time. The highlight of my evening every Sunday. Scratch that - my week. A mixture of miming and bumbled singing rehearsals behind the bins in Fountain Studios. Sadly, tonight it's being ruined by the arrival of a greying old fella who has stormed the stage with some twiddly guitar solo. For anyone under the age of 18, he's called Bryan Adams. Bryan Adams... seriously? He wasn't even cool in 1992.
20:02:
There's a rather splendid lineup of special guests tonight. Rebecca Ferguson, last year's best
X Factor
solo act who wasn't a grumpy sod painter and decorator. And sexy/vixen/saucepot/naughty girl Rihanna. If my memory serves me right, Rihanna has performed on
The X Factor
42 times in the last three years (only surpassed by Michael Bublé's 163), but hey she looks good in a bikini.
20:00:
Flash, bang, wallop. It's Peter Dickson time. You know the deal. It's time to face the music. The final teaser in the montage? David Walliams mocking Louis Walsh for having no acts left. How dare he! That's our job.
19:56:
Early apologies in advance for any lethargic blogging as well. I just polished off my second slice of key lime pie and a large glass of merlot. It's been a glorious Sunday.
19.54
Evening all! Are you strapped in and ready for action? It's going to be a bumpy ride. Quarter-finals week are around the corner and there's no joke acts, hate figures or obvious selections for the bottom two anymore. Whoever goes, there's going to be tears and plenty of uproar.