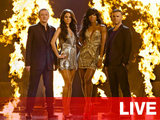 Christmas trees have started popping up in high street stores. Festive tunes are being churned out in your local Starbucks. It can mean only thing...
The X Factor
final is fast approaching. Forget about Santa and his pressies, the only gift we want this year is a full-on cat-fight between Gary Barlow and Louis Walsh.
Tonight the
X Factor
Final 5 will duke it out in a double performance quarter-final. They will sing one of their 'Guilty Pleasures' and one song from one of their 'Heroes'. On Sunday, one person will leave and most likely be destined for reality TV's fame dustbin. However, if they make it through, success and glory is almost in their grasp.
Digital Spy
will be live blogging all the drama in our usual fashion and delivering our verdict on the acts' performances.
21.45
Well, that's a wrap folks. Everyone's performed and if I was
Janet Devlin
I'd spend the night packing my bags. Join us tomorrow for special performances from Jessie J, Olly Murs and, most importantly, The Muppets!! It'll be a guddun. Night night!
21.41
Tulisa accuses Amelia of being the dreaded s-word - "shouty" - but just about recovers by saying that she has a "rocker's voice". Gary thinks maybe the song was pitched a bit too high, but Kelly insists that Amelia could hit the high notes "in her sleep". Now THAT I'd like to see. Amelia herself says that she's just looking to prove that she deserves her place in the show after being in and out and presumably shaking it all about.
21.37
I'm not sure if that boy Amelia serenaded was a stooge or just a very uncomfortable member of the audience (or Kurt from
Glee
), but either way it's an eye-catching start for the pink-haired, pink-panted one. Ooh, drums. There's something you don't see very often on this MUSICAL TALENT SHOW.
21.34
I bet Simon Fuller would be absolutely raging if he heard Amelia Lily describe
American Idol
as "something like
The X Factor
" there. Watch your back, Cowell. Anyway, she's doing Kelly Clarkson's 'Since U Been Gone'.
21.29
A lot of love on the panel for Marcus tonight. Louis says that he "nailed" the song, Tulisa praises him for overcoming some difficult times, Kelly says that she was taken on an "emotional high" and Gary predicts that the performance will be a game-changer. There's no way Marcus is going anywhere tomorrow, so I hope you're a fan.
21.26
The many faces of Marcus Collins. In the last 30 seconds we've seen child Marcus, teenager Marcus, current Marcus and now a tuxed-up version for his rendition of Stevie Wonder's 'Lately'. Ok, fine, here's the ballad I was promised and it's as slick as Marcus's predictably perfect hair. He's through.
21.22
Tulisa thinks Misha is the one to beat, saying that she has had her "best week ever". Gary says that he preferred her first song, but is still happy with how she's performed. He argues that the show would be "duller without" her, which is a fair comment. But will the public agree?
21.19
Misha B's ditched the Frizz Ease for a performance of 'Killing Me Softly' by The Fugees. She nails it, but is this just another Barlow-baiting safe performance?
21.17
Kelly promises some "sweet singing" from Misha B second time around. The pair are gushing about how much they love each other in the VT yet again. I'm starting to think that Kelly would rather vote Beyonce out of, I don't know, life (?) than eliminate Misha B from this show.
21.12
Tulisa's glad that she's gone back to being all Janet Devlin-ey, while Gary halfheartedly accepts that it was "slightly better" than her first song. He also praises her for refusing to listen to his remarks about her being boring and suggests that she should continue to ignore him in the future. I find the mute button is particularly effective, Jan.
21.08
Can Janet recover from mucking up a song that is basically just gibberish in the first place? Well, she's doing 'Under The Bridge' by Red Hot Chilli Peppers and yeah, its a great performance. She's been banging on about how much she loves the band for ages so she's clearly making the most of this chance to pay tribute to them. Doubt it will sit well with the Matt Cardle/Joe McElderry/Leon Jackson-loving voters out there though.
21.04
Very sweet and emotional performance there from Little Mix. The girls are in tears and I think the judges might be looking a little misty-eyed as well. Gary, of course, drags down the mood by saying that the vocal didn't impress him too much, but he approves of the friendship evident between them. Tulisa says that Little Mix gave their best and most "real" performance yet. I'm going to stick my neck out and say they are through to next week.
21.00
Little Mix are back for a second shot and they're doing Christina Aguilera's 'Beautiful'. Kelly's finally got her wish of a stripped-down performance, so she better be happy! Nice cameo from Radio 1's Aled there, discussing issues and things with the group. Not that you wouldn't, but be nice in the comments!
20.56
So who won round one? Louis thinks Amelia did best, Gary and Tulisa were fans of Misha B and Kelly's torn between Little Mix and Marcus Collins. So that's everyone but Janet then? Eek.
20.53
Great comments across the panel, even from Gary, who has not exactly been too nice to young Amelia this week. He keeps up his mean quota by slamming T'Pau for failing to sing in tune on the original recording. Come on Gary, haven't they suffered enough? Louis thinks Amelia's version could be a future number one and Tulisa gushes about her "beautiful vocal" and her "elegant and graceful" performance. But is it enough to keep her around? Get voting people, the lines are open.
20.46
Here comes Amelia Lily, who has somehow managed to pick up a half-naked pink man as a sidekick. Fair enough. This week she's bringing with her a big window and a (whisper it) shouty performance of 'China In Your Hands' by T'Pau.
20.43
The song is 'I'm Your Man' and... yep, that's a lot of sailors on stage. Once again, another buzzing, energetic performance, but where was the vocal-boasting ballad Barlow was yapping on about last week? The panel laps it up though, with Gary predicting that he will win this competition and Kelly appreciating Marcus's quick ab flash. If you missed it, check back with
Gay Spy
on Monday.
20.39
Gary Barlow introduces a Marcus Collins Wham! cover by wishing George Michael a speedy recovery from pneumonia. Get well soon, George! Anyway, eyes peeled, everyone -
has Marcus had Botox
?
20.34
How the Ting Tings have fallen. A number one single in 2008, sneaking in a quick cameo in
The X Factor
's Talk Talk ads in 2011. Oh dear.
20.31
Misha's back on form tonight with a jazzed-up version of Cyndi Lauper's 'Girls Just Wanna Have Fun'. It's big, bold and a world away from that dreadfully safe Whitney Houston cover last week. Louis calls her "fun, versatile and soulful", Tulisa can't think of anything bad to say about her (oh, how times have changed) and Gary's already pre-ordering Misha B's first album. Despite actually using the word "bestest" and referring to herself in the third person, Misha's impressed me tonight.
20.26
Here comes Misha B and she's giving a shout out to her 'aliens'. Not going to lie, while the VT's running I've been trying to work out who would win in a battle between Misha B's aliens, GaGa's monsters, Cher Lloyd's brats and the Rihanna navy. Thoughts?
20.21
My, this is uncomfortable. All the judges, even Kelly, agree that it was a bit of a let down, variously describing her performance as "quite mediocre", "a real mess" and some other not very nice stuff. Apparently, Janet's been feeling sick backstage so kudos to her at least for not spewing all over the stage. That alone isn't going to get my vote though.
20.17
Wow, you gotta admire the Devlinator for the completely WTF choice of Hanson's 'MMMBop'. Shame about the apparent mid-song stumble and the fact that she looks absolutely bloody miserable singing it.
20.15
Next, it's the Irish firecracker Janet Devlin, who has been switching on Christmas lights back in the Emerald Isle this week. Get used to it, love, that's an average
X Factor
reject's main source of income.
20.12
Despite wearing outfits that seem to have been modelled on French Fancies, Little Mix have pulled off the unlikely combination of 'Baby' and 'Where Did Our Love Go'. Louis didn't like it though, describing it as a "little bit lacklustre". He probably just wants people to remember he's still there. Gary, on the other hand, "really enjoyed it" and Kelly... I don't know, she kind of talked.
20.08
Little Mix have got the death slot, but fingers crossed the girl band curse won't finally strike. They're doing a Justin Bieber and Diana Ross mash-up, which sounds like the most dangerous pairing since... well, Justin Bieber and Mariah Yeater.
20.07
Here come the judges. Tulisa sticks it to Ofcom by showing off BOTH of her controversial forearms, one of which has the phrase "Vote Little Mix" scrawled upon it. Not to be outdone, Kelly Rowland is getting in on the product placement game by sporting a dollop of Colgate toothpaste on her shoulder.
20.04
Ah, here it is. Dermot's dancing. And fantastically, incredibly, somehow, it's the craziest routine yet. Mock fisticuffs to 'Holding Out For a Hero' accompanied by some lovely lay-dees? WOW.
20.02
We've gone all sweeping and angelic for the opening montage today. Lots of hugs and praises. Hard to imagine that it's only been a few weeks since bully-gate.
19.59
Hello everyone. Believe it or not, we're already at the
X Factor
quarter-final and this week, it's a heroes and guilty pleasures theme. Will super-serious Janet Devlin reveal herself as a Saturdays fan? Is Amelila Lily going to honour fellow 'shouter' Lulu? Maybe the Misha B/Kelly Rowland love-in will continue with a performance of 'Down For Whatever'. All will soon be revealed. If you have a death wish, let everyone know your own guilty pleasures and musical heroes in the comments below.