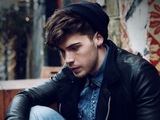 Yesterday,
Aiden Grimshaw
almost brought down the internet when he unveiled his debut single 'Is This Love'.
The
response on Digital Spy
was overwhelming. "Wow, I'm really impressed! Sounds awesome!" "Worth the wait!" and "Aiden Grimshaw get in my bed" were among the early comments, and we found it hard to disagree.
Has Grimshaw recorded the best ever
X Factor
debut 'Loser's Single'? Unlike the rush-recorded winners' tracks, he's actually got some tough competition. We round up some of the other contenders and remind you of what we said about them at the time.
JLS: 'Beat Again'
"Alexandra Burke best have something good up her sleeve because her old rivals have laid down a fairly decent gauntlet here."
Diana Vickers: 'Once'
"Leon Jackson, watch and weep... this debut single is a straight up brain-invader."
Rebecca Ferguson: 'Nothing's Real but Love'
"Like a bottle of Gentleman Jack, the result is smooth, premium and leaves you feeling warm and fuzzy inside immediately after."
One Direction: 'What Makes You Beautiful'
"It's adorable, completely innocent and bound to cause a stir amongst your mates."
Cher Lloyd: 'Swagger Jagger'
"On paper it sounds like a disaster - but for its sheer balls, we're siding with Cheryl on this one."
After listening to those tracks alongside some of the lukewarm covers from the show winners, all we can say is roll on
Little Mix
Amelia Lily!
What's your favourite X Factor 'Loser's Single'? Let us know in the space below.