"Look at me! I'm a drama queen if that's your thing baby, I can even do reality!"
Geri Halliwell
strutted her way into the
X Factor
series nine auditions today, standing on top of a car and speaking to the crowds via a megaphone. You've got to give it to Geri, she's always subtle.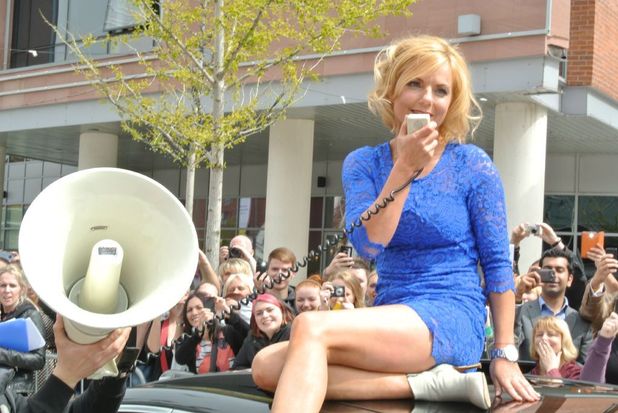 The rumour is that if she impresses during the first round of auditions in Liverpool she'll be given the gig full-time later this year. Whether the return of Ginger Spice to primetime telly is a good thing remains to be seen, but in the meantime, we've raided the telly archives for the best (and worst) of Halliwell on the box.
Geri does the Brit Awards:
Geri's most famous TV appearance of all time came in 1997. Introduced with a crude gag by Ben Elton, strutting in a tight-fitted Union Jack tea towel and flashing her black knickers to the nation, she gyrated her way into the country's tabloid papers and hearts.
Not quite as iconic, but equally barmy was Geri's 2000 Brit performance of 'Bag It Up'. Pole-dancing her way out of a giant vagina, it was the
Daily Mail
's worst nightmare. Shame about the song.
Geri on Popstars: The Rivals:
Alongside Pete Waterman and Louis Walsh, Geri helped put together Girls Aloud (and One True Voice) back in 2002. Geri's role in the process may have been minimal, but next to Waterman and Walsh, she provided some desperately required glam and toned down the grey-haired old man quota.
She also added her dance expertise:
Geri on All American Girl:
Geri's easily-forgotten flop reality show
All American Girl
barely lasted a full first series. Nearly a decade on, we're still not quite sure what the point of the show was either.
Geri in Sex and the City:
Many people mocked Geri Halliwell's brief hammy cameo in
Sex and the City
, but you'll struggle to find anyone else who can make Kim Cattrall look Oscar-worthy with such ease. Worth another watch just for a giggle.
There's Something About Geri from 2005:
Geri talking about her favourite subject.... Geri! This Channel 5 documentary hardly set the world on fire, but if you're intrigued about what life is like behind closed doors for the artist formerly known as Ginger Spice, you can still watch most of the doc on YouTube.
Geri on X Factor in 2010:
This won't be Geri's first
X Factor
stint. She was one of the many guests who stood in for Dannii Minogue in 2010. Back then, Cowell claimed that he wouldn't ever want her back and she was mocked terribly in a Chas & Dave-backed montage. Apparently Geri likes talking - who knew?
But to Geri's credit, she was also present at one of
X Factor
's most famous ever auditions. Gamu! Let's hope she sprinkles some similar magic during this year's audition rounds.
Do you think Geri is a good choice for a full-time X Factor judge? Let us know below!