54
Reality TV Blog
'X Factor' Battles: One Direction vs Little Mix - Have your say
X Factor
series nine launches tonight and to get you in the mood, we're continuing our search for the Greatest Ever
X Factor
act. You can still vote in
our recent Alexandra Burke vs Rebecca Ferguson
First Round Battle, but today we have yet another crunch head-to-head.
Featuring two acts with a romantic connection (sorry Zayn and Perrie?!), we want to hear your verdict on who was better out of
X Factor
's best teen pop combos.
One Direction (Series 7 finalists) vs Little Mix (Series 8 winners)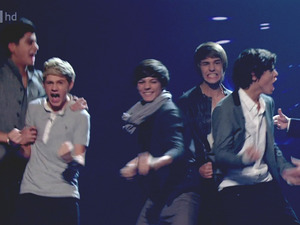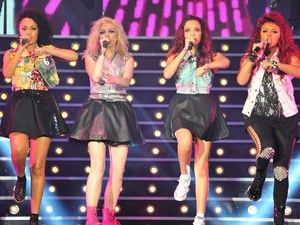 One Direction
have nudged out Leona Lewis as Simon Cowell's favourite act and flag-bearers from the brand
X Factor
. The boys started quietly in the Live Shows, but after a couple of weeks the 1D Family exploded and screaming girls spread across the UK began following their every move. Since the show and the pop magic of 'What Makes You Beautiful', the fivesome have spread their charms worldwide.
JLS had broken the mould for groups on
X Factor
, but One Direction took things even further, bringing back a Smash Hits-esque appeal to the ITV1 talent show. Despite their huge fame, record sales and women of all ages throwing themselves at them, it's hard to begrudge the boys their moment in the sun, because they're so damn charming.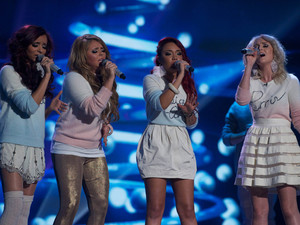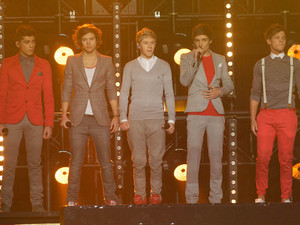 Little Mix are the current
X Factor
champs and the first ever group to win the show. Something many of us thought was impossible. The four-piece are cute but strong, gentle but with an edge. A perfect blend of girl power and lush vocals.
As ever with the
X Factor
, the winner of a series is not always the finest act vocally, but usually the one who most viewers can bond with and root for. Little Mix has mass appeal in spades and could surprise a few people when their debut album is released later this year.
One Direction sing 'Viva La Vida' on the Live ShowsLittle Mix sing 'ET' on the Live ShowsPoll results
One Direction - 36.29%
Little Mix - 63.71% - Winners