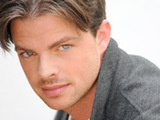 Taking a break from waltzing around the UK with his
Strictly Come Dancing
/romantic partner Ali Bastian, American ballroom star
Brian Fortuna
launches his own BBC Three show this week -
Dancing On Wheels
. Fortuna and fellow dancer Kristina Rihanoff will be training six couples - one celebrity, one wheelchair user - how to perform on the dancefloor together. The eventual winners will earn the chance perform at the European Championship of Wheelchair Dance. We caught up with Brian to find out more about the project.
Can you tell us how the idea of Dancing On Wheels came about?
"Well basically my mother created one of the first written syllabuses for wheelchair ballroom dancing. She was running a programme in it at her school for eight years. It's an activity that I have partaken in and it is something that we have been trying to get some national exposure for a long time. I'm very excited that the media are interested in the show and even more excited that the BBC actually commissioned
Dancing On Wheels
."
Is wheelchair dancing something that is popular?
"Well, you know, it's actually an activity that originally started in the UK, but it really lost its popularity over here. It's very big in places like Amsterdam now, but in the United States and UK it is quite limited right now. I'm actually one of the leading authorities on wheelchair dancing in the US. That's why we really wanted to do this show. It's something that really needed our attentions and hopefully this programme will do it."
What challenges does wheelchair dancing pose for a choreographer?
"There's a lot of different challenges. When you are teaching able-bodied dancers, you have a man's part and a lady's part. Teaching wheelchair ballroom dancing, there is four parts - the able-bodied man, disabled woman and vice-versa. On a personal level on this programme, I had to come up with three cha chas or three rumbas and make them all completely different. They all had to be exciting, but they also had to be simple enough that everyone could do them. It was quite a challenge."
What does a judge look for in a wheelchair dancer?
"Well, a lot of it is actually very much the same. Obviously there are certain different methods of technique and different ways of using the wheelchair that the judges are looking for. But more generally they will want to see the same things in a competition; Rhythm, timing, costuming, connection, movements, choreographer, etc."
Could a wheelchair dancer ever compete on Strictly?
"Wheelchair ballroom dancing demonstrates the possibility for able-bodied people to be paired with disabled people. That is quite rare as well, because most activities for disabled people pair them up with other disabled people. But as far as an abled-bodied couple being able to compete against a wheelchair dancer, that wouldn't be very fair. You are limited when you are in a wheelchair. It can move forwards, backwards and in a circle, but it can't move side to side or up-and-down. So, I don't think that will be a possibility."
How has the Strictly tour been going?
"It's been a really good tour. We just finished at the O2 Arena and we're in Nottingham tonight. I'm looking forward to performing there, the whole group are having a great time, we've had lots of positive reviews and some great responses from the crowds - it's all good!"
Do you still get excited when you and Ali [Bastian] get 10s from the judges?
"Yeah, of course. When you step out on that dancefloor, we put everything we have into that one performance. To receive positive feedback at the end is still always a great feeling."
You and Ali were incredibly popular as a couple. Was it a special year for you?
"It really is special. I put an enormous amount of dedication into my craft. I left my family and my friends in America to move to England for my career. Dancing is my business and I want to be recognised for my craft and to have fans and viewers interested in that, it really is very flattering."
Will you be coming back for a third series of Strictly?
"I definitely feel part of the
Strictly
family - of course! As far as working on future series, we are only ever contracted for one series at a time, so we'll have to see what this year brings. Hopefully, I'll be back."
The show came in for heavy criticism last year from some parts of the media. Does that affect the dancers?
"Both
Dancing With The Stars
and
Strictly Come Dancing
changed the image of ballroom dancing around the world forever. That is quite an achievement and I think it was really important. If the press want to knock the show, well I don't have any control over that. I do everything that I can to make sure that I promote it and do the best job I can, but what comes out in the media is out of my control."
Dancing On Wheels starts tomorrow night at 9pm on BBC Three.