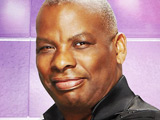 Don Warrington
has become the fifth celebrity to be eliminated from
Strictly Come Dancing
.
The actor and his dance partner Lilia Kopylova were in the bottom two alongside Heather Small and Brian Fortuna after the male and female celebrities competed against each other for the first time in last night's show.
Warrington's performance of the American Smooth had resulted in a lukewarm reception from the judges yesterday and he picked up just 25 points.
"Well you were a bit off tonight," Bruno Tonioli explained. "For an actor it surprises me because you should get what the dance is about."
Meanwhile, Craig Revel Horwood complained: "There were a few funky gesticulations with your fingers at the end and you did some funky bit of nonsense."
After the results were announced in tonight's show, Warrington and Small went on to compete against each other in the dance-off. As usual it was then left to the judges to decide who should stay, and it was Small who received a lifeline after being backed by Tonioli, Horwood and Arlene Phillips.
With his elimination confirmed, Warrington admitted: "I am sad, Lilia is wonderful. I'm more sad that I won't be able to dance with her anymore."
Warrington had previously been in the
bottom two
in the first results show of the series, while Small also escaped
elimination
in last weekend's episode.