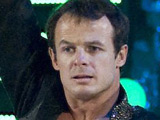 Austin Healey
has become the twelfth contestant to be eliminated from
Strictly Come Dancing
.
The rugby ace and dance partner Erin Boag were voted off after finding themselves in the bottom two for the first time in the competition. They were joined in the dance-off by Lisa Snowdon and Brendan Cole, who had previously been saved by the judges twice.
Healey and Boag had ended last night's performance show with 70 points out of 80 after dancing the American Smooth and the Salsa.
Show judge Arlene Phillips had earlier encouraged Healey to appear more confident during his routines.
Commenting on the American Smooth, she explained: "You mustn't let Erin outdance you, you've got to come out and dance like a star. You played rugby for England, now I want you to come out and dance for England."
Asked about the Salsa, she added: "When you're dancing with Erin your performance is electric, it's masterful and I love a man to be masterful - but sometimes when you're left on your own there's just that little bit of timidity."
After both couples had performed again in the dance-off, all four judges agreed that Snowdon and Cole should be saved over Healey and Boag.
Healey then bowed out from the show by thanking Boag, the
Strictly
team and his family.