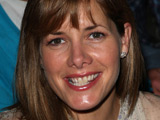 Darcey Bussell
has said that she will not be afraid to voice her opinions on this weekend's
Strictly Come Dancing
.
Bussell will join Len Goodman, Bruno Tonioli, Alesha Dixon and Craig Revel Horwood on the judging panel for the rest of the series. The ballet star insisted that she has the necessary experience in performing to provide "constructive criticism" for the celebrities on Saturday.
"I suppose I'm probably most like Len, I want to give constructive criticism and help them along, but I'm quite prepared to say if they haven't improved. All the judges have different qualities and, having been a dancer all my life, I know what it's like to perform and what you need to be able to perform," she told the
BBC
.
Speaking about how she was signed up for the show, Bussell said: "I was in London last May doing some work with publishers Harper Collins. I'd just finished an interview with BBC Breakfast and, as I'd performed on
Strictly
about two years ago, I assumed they might want another little number.
"I was all ready to explain that I haven't danced since I retired and didn't intend to do any more, when they asked if I would be interested in being a judge. I was taken aback, it wasn't what I was expecting, but it will be an amazing experience."
Bussell also claimed that she wasn't worried about the media and public's reaction to her role on the show.
"I suppose my career has been quite sheltered in its way, but I've been around long enough and I've been in front of some very big audiences," she said.
"I don't want to upset anybody, I'm not that sort of person, but I suppose you're not always ready for how somebody's going to take something you say, and you're not always prepared for what the public is going to think. I think if you stay true to your word and don't pretend to be something you're not then you'll be okay."
Strictly
continues on Saturday at 6.40pm on BBC One.