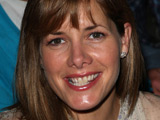 Darcey Bussell
has claimed that there is lots of "sympathy voting" from the public on this year's
Strictly Come Dancing
.
The former Royal Ballet star, who will join the judging panel this week, said that she had been able to predict who would leave the show nearly every week, but said that sometimes the public didn't vote for the best dancers.
"From the beginning, I've had my own list of people that I thought were going to survive and I've enjoyed seeing how they've done," she told the
BBC
.
"Luckily I haven't been too far wrong, although the public obviously has a big say - there's a lot of sympathy voting, but that's showbiz."
Bussell also revealed that the main thing she would be looking for from the celebrities would be "chemistry" with their professional partner.
"They can't be just individuals, there must be some chemistry. I also want to know that the celebrity has really listened to the professional and understood what is required choreographically and that the professional has understood how much their celebrity can cope with," she said.
"I want to see them travelling, using the space and stretching themselves that little bit further than maybe they should; that's exciting to watch. I hate anything safe and comfortable with no spark to it."
Strictly
continues on Saturday at 6.40pm on BBC One.