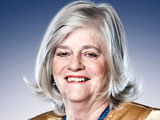 Ann Widdecombe
has claimed that she will have a cream tea training regime with Anton Du Beke.
The Conservative MP, who was paired with Du Beke on this evening's launch show, said that the pro dancer was her perfect partner.
"I'm very excited about dancing with Anton. I did say when I signed up, I hope I dance with Anton," she told
DS
. "But when I discovered that there was a height difference, I wasn't sure that it would happen. I thought I would have Vincent.
"But I'm so excited to have Anton. We are going to have a lovely time. We are going to train in Devon and have as many cream teas as we can manage. We'll be by the moor. We can go dancing in the moor."
Du Beke added: "We're going to have a great time. Can I say it? This is going to be my year! This is going to be our year? I've finally got a woman with real dancing talent. I'll take anything I can get talent-wise. And I will get any single bit out of her."
The first
Strictly
live show will air on Friday, October 1 on BBC One.