Reality TV News
Alesha Dixon 'would never quit Strictly'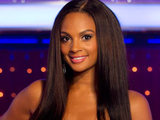 Alesha Dixon
has said that she would never consider quitting her role as a judge on
Strictly Come Dancing
, despite receiving criticism upon joining the show last year.
The former Mis-Teeq star faced
negative feedback
from viewers when she replaced choreographer Arlene Phillips on the judging panel last September, some arguing that the series five winner had not enough experience for the job.
According to
New
magazine, Dixon said of the experience: "I can't deny it was hurtful because it was, and what did take me by surprise was the fact that a lot of the negativity happened before I had even opened my mouth. Some of it was personal and that was really tough to deal with. I did feel a lot of it was blown out of proportion, however.
"I am not the type to quit. I am a fighter and I knew I had to just let it all pass by. I was determined to hold my head high. There is no way I was going to ever give in."
However, Dixon added that she is feeling a lot happier about her role for series eight.
"I'm just really relaxed actually," she said. "I've got the easy part. It's the celebrities who have the hard job. It's all about the contestants and no matter how much flak I was taking, I knew my part was very small compared to what they were all going through.
"There is no respite - training takes over! At the same time, you really pray you won't get voted out as it's just such an incredible experience. I feel honoured to have the best seat in the house."
The
Strictly Come Dancing
live shows begin on October 1 at 9pm on BBC One.