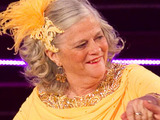 Ann Widdecombe
has claimed that
Strictly Come Dancing
is not a dancing competition.
The former Conservative MP insisted that the BBC programme was about entertaining viewers and insisted that she will "try hard" to win the series.
"Let's be logical about it," she told ITV's
Lorraine
. "If it was a dance competition you would never begin with Ann Widdecombe and Kara Tointon in the same competition. You wouldn't do it. if it was a dance competition, you would start with evenly matched people - and that would be incredibly tedious.
"It's entertainment - and we're competing in entertainment."
Asked by guest-host Michael Ball if she thought that she could win the show, Widdecombe said: "I'd love to think so but I'm not that convinced - but we are trying our best. We will go for it!
"Nothing depends on this for me. I'm not relaunching my career or anything, I'm just having fun."
She quipped: "I do wish I had put a bet on myself when I was still 150/1.
Strictly Come Dancing
continues tomorrow at 6.40pm on BBC One.
> Widdecombe, Horwood pair for 'Strictly' tour