Keep reading to find out the judges' verdicts on the final five
Strictly
celebs' performances from tonight's second semi-final.
---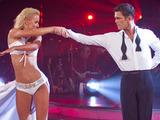 Scott Maslen and Natalie Lowe - Charleston
Len:
9
"That Charleston has done you no harm at all. I saw lots of the lovely steps I wanted to see, the swivelling action, not overloaded with gimmicks. A couple of little stumbles here and there, but it was such good fun and lots of high energy."
Alesha:
9
"That was good, old-fashioned entertainment - great swivels, I thought you were full of personality, I like to see the goofy side of you coming out, and that was a classic Charleston - I really enjoyed it."
Bruno:
9
"Once you found your legs again, you were ready to go for it. Charleston is all about entertainment, exuberance and comedy - and you did that very, very well. Very entertaining."
Craig:
8
"I thought the opening sequence was a little bit nebulous - I didn't know where you were going with that. You over-balanced horribly when you went into the dip to the point of nearly dropping her, but you did save her. I thought the whole thing was rather cute, quirky, and I rather enjoyed it."
Total:
35
---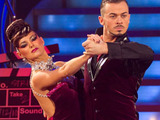 Kara Tointon and Artem Chigvintsev - Rumba
Alesha:
10
"It's not very often a couple come out and dance and actually moves you emotionally. That was so touching Kara, and I could watch you all night. Together you are mesmerising, and it's such a difficult dance. Technically you mastered it, emotionally you mastered it. For me, it was just pure magic - I really loved it."
Bruno:
10
"Ravishing, darling. The quality of your dancing tonight was of a standard that is professional. Some of the sequences are so difficult and you did it to a professional standard. You have to make the final, it would be injust if you didn't make it. Because that was brilliant."
Craig:
9
"Well, almost perfect. If you hadn't have put that lift in, darling - I might've dusted off my 10."
Len:
10
"I don't know what I think about [Craig]. Do me a favour, you're not supposed to dance that well. You're totally exposed. But it was knockout."
Total:
39
---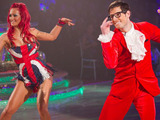 Matt Baker and Aliona Vilani - Tango
Bruno:
9
"Strong, powerful, driven, a hint of arrogance. It was like seeing a South American dictator. You were moving her about beautifully, it was about taking the lead. When you lead, it really shows. And it's very difficult to do, and this dance really suits you. You have done very very well."
Craig:
9
"There was only one thing that I didn't really like about that, and that was the lift. Just the look of it - I didn't feel as if it worked, but your foot did remain on the floor which is nice to see. I thought you danced that with military precision. It was controlled, it was full of purpose, you were really leading. Wonderful."
Len:
10
"Matt, tonight you were cooking on gas - it really worked. Last night, you had a bit of fluff in one of the burners or something, and it wasn't quite there. But you've come out on fire. I loved it, lovely movement across the floor. Great job, fabulous."
Alesha:
10
"It was powerful, driven, had purpose, determined. You did take a beating last night Matt, but you just proved why you deserve to go into the final."
Total:
38
---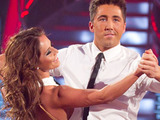 Gavin Henson and Katya Virshilas - Viennese Waltz
Craig:
6
"Er, one essential element of dance of course is timing, and that seems to sometimes allude you, darling. Either you chose to crossphrase throughout - there was one section that was in time - or you weren't dancing on the first beat of the bar, sadly."
Len:
9
"One of the essentials of the Viennese waltz is good footwork - you had it, good posture - you had it, nice waves - you had it. You lost a bit of musicality, but you have been the underdog over and over. You are my hero, you've come back strong, and good on you Gaz."
Alesha:
8
"I'm much more at ease watching you in ballroom - this is definitely your thing. Erm, I do think sometimes you have timing issues, but actually I thought you did really well. You are the most improved, and I'm actually relaxing so much more watching you dance now. That was graceful, your posture is looking good as Len said, and you really should be proud of yourself."
Bruno:
8
"Very elegant, very smooth - yes, there were a few little issues - but the improvement from week one and what you've achieved is great. So regardless of what happened, you should be proud because you've done very, very well Gavin. And you did very, very well tonight."
Total:
31
---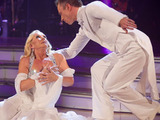 Pamela Stephenson and James Jordan - Quickstep
Len:
10
"Stepping out with your baby James, there you were. I loved the feeling of the dance, I loved that opening with the top hat. Lovely ballroom dancing as you went around, lovely hold and posture. Honestly, you're a class act and that was brilliant."
Alesha:
10
"Once again, your passion for dance lights up the room. You showed true showmanship at the top of the routine, I love the tap section, I thought you did a fantastic interpretation of quickstep, and you're an inspiration for so many women. And for me that's what makes you a winner."
Bruno:
10
"Pamela, the 'Broadway Babe'. I loved the theatrical beginning - it was just delicious. And the seemless flow into a beautiful, correct quickstep - then the tap step and musical comedy ending. It was pure cinematic joy."
Craig:
10
"One word darling, three syllables, starts with 'f'. Fa-bu-lous."
Total:
40Do you agree with the judges' comments? Share your thoughts below!