0
Reality TV News
'Strictly Come Dancing's Brendan Cole: 'I have not had surgery'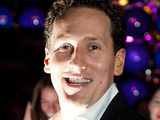 Brendan Cole has responded to accusations that he has had cosmetic surgery on his face.
The
Strictly Come Dancing
star was accused of having some work done after he appeared on the BBC One dance contest over the weekend.
Writing on Twitter, Cole dismissed the reports, claiming that it was the work of Keven Moss, the creative director for celebrity hairdresser John Frieda.
He repeated his defence on BBC Two's spinoff show
It Takes Two
, commenting: "Can I say for the record, I haven't had plastic surgery, I just change my hair at the weekend. Alright!"
Cole also spoke about his disappointing first dance with
Lulu
on Friday night, which involved the veteran popstar forgetting nearly all her dance moves.
"The amazing thing is that she still performed. And that's half the deal with these guys," he said. "To get someone out there and excited to be there is a brilliant. So once we remember the routine, we're going to be a force to be reckoned with."
Lulu added: "I think actually Craig [Revel Horwood] nailed it when he said it was a disaster. As soon as I went wrong, I got very nervous. I went wandering off and I can't bare look at it. I have watched it and watched it."
> Strictly Come Dancing Lulu admits Brendan Cole pairing shock
> More Strictly news