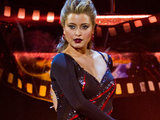 Holly Valance
has apparently snubbed travelling on a coach booked by
Strictly Come Dancing
producers to take the contestants to the final in Blackpool.
Instead, she will fly there on the private jet belonging to her boyfriend, property developer Nick Candy, according to
The Sun
.
A source said: "The kind of circles Holly moves in you don't really get the coach.
"They're seen as the kind of vehicles you use to ferry catering staff to your summer croquet party.
"She'll fly up with Nick and some friends and family who will all be cheering her on."
Nancy Dell'Olio has reportedly secured a seat on the flight.
"Nancy wouldn't be seen dead on a coach so was in the process of hiring a chopper to get her up there," the source continued.
"But when she realised how much that was going to cost she panicked. Fortunately she heard about Holly's plan and she was kind enough to offer her a seat."
Though she made the semi-final, Valance won't be going on the
Strictly Come Dancing
tour.
A source said: "Appearing on a weekly TV show is one thing - but traipsing round Britain in the winter months is another."