Nicky Byrne
has been given the nickname 'Glitterballs' by his family.
The Westlife singer has been mocked by his wife Georgina and his sister-in-law Cecelia over his flamboyant outfits for
Strictly Come Dancing
.
He revealed that his partner has enjoyed his newly-found dance moves since training for the show.
"My wife is buzzing with excitement. She will come to all the shows — we are very much a team," he told
The Sun
.
"Her sister, Cecelia, nicknamed me Glitterballs and now that's the running joke in my family. I like to put a smile on their faces."
On improving his collection of outfits, he said: "After seeing my first dance, Georgina could not stop laughing for ten minutes. She told me, 'Seriously, you need to change your style'.
"And when I watched myself afterwards, I was like, 'Oh no!' I had Cuban heels with ankle socks and shorts! My legs looked so white. I am not sure I am ready for fake tan yet but everyone tells me the wall does come down eventually.
"I guess a lick of paint is not the worst thing in the world."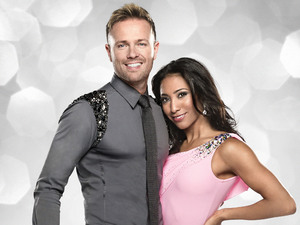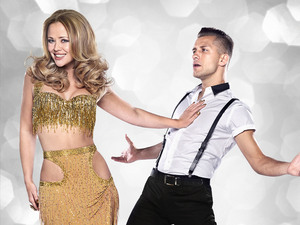 He added that he is finding dancing much more difficult than his days performing with Westlife, saying: "Early on with Westlife it was challenging and this is definitely a different kind of challenge. It's hard. Karen is great. She is patient but she is no walkover either.
"She won't let me sit and have a coffee. I am putting in five hours of training every day. But I love it.
"When [Westlife] sang in a TV studio, it was always a ballad and so we were either sitting on stools or standing.
"When we were on tour, we danced but we didn't have anyone judging us and it was all a bit of fun. This is completely different.
"Kimberley Walsh from Girls Aloud is in a similar position to me, only she went to stage school too. I love all the rivalry that is going on with Kimberley and I."
Nicky Byrne will dance the waltz with pro partner Karen Hauer on
Strictly
's first live show on Friday (October 5).