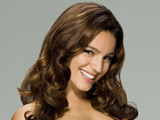 Kelly Brook has quit her place on BBC1 dancing contest
Strictly Come Dancing
after her father died on Monday.
The 28-year-old's dad Kenneth
passed away
after a long battle with cancer at the age of 57, but Brook had vowed to carry on with the show in honour of her father.
A statement has now been released saying that the actress has pulled out of the competition because she has found it too difficult to continue.
The BBC statement said: "Sadly Kelly Brook has taken the decision to pull out of
Strictly Come Dancing
following the loss of her father this week.
"Kelly has done some training as she had hoped to continue with the show in his memory. However, understandably she has found it too difficult."
The BBC added: "Kelly has been a fantastic part of the programme and she will be sorely missed by everyone on the show who would also like to express their deepest sympathy to Kelly and her family at this difficult time."
Brook was one of the favourites to win the show with her dance partner Brendan Cole. They were saved from leaving last week when the four judges let footballer John Barnes go instead.
The final on December 22 will now contain two final couples as opposed to the traditional three as a result of Brook's withdrawal.
The remaining contestants will be performing two different dances on tomorrow night's programme.