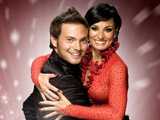 Strictly Come Dancing
star Vincent Simone has accused Matt Di Angelo of stealing the love of his life.
The professional dancer, who was voted off with dance partner Stephanie Beacham in week two of the competition, felt heartbroken when he noticed that his long-term girlfriend Flavia Cacace was falling for Matt as they spent hours together in rehearsals.
Vincent revealed that Flavia admitted her feelings for Matt at the end-of-show wrap party this week. He is now worried about how he will cope when he has to see them together during the 2008
Strictly
tour.
"Matt has stolen the only woman I've ever loved. I feel empty and am beside myself. I've never felt like this before and all I want is to have her back," Vincent told
The People
. "She's the love of my life and I thought we'd be together forever and get married but now I don't know what's going on.
"I didn't even want to go to the end-of-show wrap party but I forced myself. When she and Matt went off to cosy up on a sofa in the corner together, that was it. I took her to one side and asked her again what was going on. I told her I couldn't cope with doing the tour if I had to see them together. The thought just tears me apart inside.
"She cried and told me she'd fallen for him. She should have told me before and the fact that she didn't upset me more. I was so angry and upset with her, disappointed too."
He added: "I want her back and I'd do anything to make that happen but I don't think I can take any more heartache."