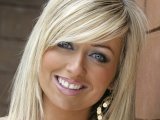 Hollyoaks
actress
Gemma Merna
has said that she would love to appear on
Strictly Come Dancing
.
The soap star, 24, who plays Carmel McQueen, said it is the only reality show that she would be interested in working on.
"I would love to be on
Strictly
," she told the
Daily Star
. "I think that being able to dance is so sexy, especially for a guy.
"I just like all the glamorous dresses the girls get to wear, it would be fantastic."
When asked whether she would appear on
Big Brother
, she commented: "I would hate having nowhere to escape.
"Being locked in a small building with a load of people you don't know is not my idea of fun."