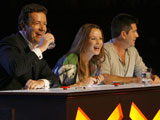 Ten-year-old
Hollie Steel
from Accrington impresses the judges on this week's
Britain's Got Talent
.
Steel reveals that she dreams of playing on stages miles away from Accrington and starts to perform wearing a lilac tutu.
Her dad comments: "I am so proud every time she performs, there's no doubt about it."
Shortly after beginning her dance routine for 'I Could Have Danced All Night' from
My Fair Lady
, an unimpressed Simon Cowell looks like he is about to press the buzzer.
However, Steel then begins singing and suddenly the mood changes.
"The crowd get on their feet, Kelly [Brook] looks on the verge of tears, and Amanda is singing along, proclaiming 'it was like looking in the mirror!'," said an ITV source.
Meanwhile, Piers Morgan describes the youngster as the best child singer in the show's history.
Only Simon Cowell is critical, pointing out faults in her choice of outfit and song. "I didn't like what you were wearing," says the judge. "You looked like any other little girl wanting to be a ballerina and I wasn't crazy about the song."
Britain's Got Talent
airs tomorrow at 8pm on ITV1.