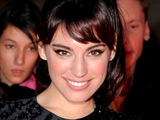 Kelly Brook
has claimed that she is "shocked" by the comments that Ant and Dec have made about her since her departure from
Britain's Got Talent
.
The model and actress told the
Daily Mail
that she cannot understand why the pair have made their public jibes, insisting that she had no disputes with the presenters during her short-lived stint on the show.
Brook was
axed
as a judge on the programme after six days in January. Ant and Dec have since
expressed
anger over her appointment, arguing that she was "wrong from the start".
Reflecting on their complaints, Brook explained: "Basically, I just don't think Ant and Dec liked me. Their egos are such that they were saying to themselves, 'How dare she think she can come on to our show?', and since then they've been very vocal about their displeasure at me being there."
The star also denied Ant and Dec's recent
allegation
that she had never seen
Britain's Got Talent
before and was unaware of what they did on the contest. She has said that the duo simply misinterpreted a question she had asked about their backstage role.
Brook added: "I have to say it's the first experience I have had of that kind of behaviour and I was shocked by it, actually. I would like to apologise to them now if they thought I didn't know who they were. I do think they are very talented guys who are great at what they do. People love them on television and that's why they work consistently."