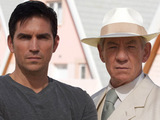 The latest episode of
The Prisoner
sunk to just 1.56m (7.1%) in the 9pm hour on Saturday night, according to early figures.
The ITV1 drama was beaten by ITV2's
Britain's Got Talent
spinoff, which averaged 1.66m (7.5%) over the same period.
The Prisoner
- now in its third week of six - lost a staggering 85% of the lead-in audience from
Britain's Got Talent
, seen by 10.17m (43.4%) in the 8pm hour.
Earlier on ITV1,
You've Been Framed! A To Z
and
The Whole 19 Yards
averaged 3.4m (18.6%) and 4.04m (19.6%).
The fifth episode of
Doctor Who
, 'Flesh and Stone', pulled in 6.53m (32.8%) to BBC One from 6.25pm, on par with last week.
The latest edition of
Over The Rainbow
followed with 5.02m (23.9%), then
The National Lottery: Who Dares Wins
had 3.93m (16.7%) from 8.10pm.
Casualty
took 6.05m (27.2%) between 9pm and 9.50pm.
BBC Two's live snooker coverage averaged 1.77m (8.4%) for around four hours from 7pm.
Channel 4's repeat of documentary
SAS: The Real Story
appealed to 895k (3.8%) in the 8pm hour, then a screening of Jason Statham actioner
The Transporter
picked up 1.53m (7.4%).
On Five,
NCIS, CSI: NY
and
Law & Order
delivered respective audiences of 1.06m (4.5%), 1.79m (8%) and 1.15m (6%). A repeat of
CSI
closed out the night with 764k (5.9%).
BBC One claimed a primetime victory with an overall share of 23.1% to ITV1's 20.3%. BBC Two was third with 8.3%, followed by Five with 6% and Channel 4 with 5.3% (+1: 0.6%).
BARB ratings data supplied by Attentional