Reality TV News
Tina & Chandi, Connected reach 'BGT' final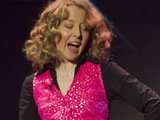 Tina & Chandi
and Connected have become the latest acts voted through to Saturday's
Britain's Got Talent
final.
Connected and Neil Fullard were forced to face the judges after dancing dog act Tina & Chandi won the public vote.
Simon Cowell saved the teen boyband after Piers Morgan and Amanda Holden had voted for Connected and Fullard respectively. Cowell had to be hurried by Ant & Dec, as he took his time making a "hard" decision.
Upon his departure, Fullard voiced his support for the pop group, who were emotional following their victory.
Also leaving the competition were Michael Fayombo Jnr & Snr, Kev Orkian, Maxxie Oliver, the Ruby Girls and Taboo.
Britain's Got Talent
continues for its third semi-final tomorrow night from 7.30pm on ITV1.