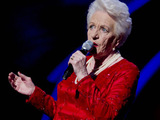 Janey Cutler
and Twist & Pulse have become the latest acts voted through to the
Britain's Got Talent
final.
Twist & Pulse and The Fusion were forced to face the judges after singing pensioner Cutler won the public vote.
Piers Morgan and Amanda Holden backed Ashley Glazebrook and Glen Murphy after Simon Cowell insisted that The Fusion gave the better performance "on the night".
Also leaving the competition are Team Shaolin, Mark James, Emile Harris, Tyler Patterson and Ice.
Cutler and Twist & Pulse will join Spelbound, Tobias Mead, Tina & Chandi, Connected, Paul Burling and Christopher Stone in Saturday's grand finale.
Britain's Got Talent
continues for its fifth and final semi-final tomorrow at 7.30pm on ITV1.