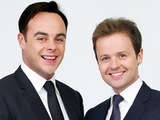 Britain's Got Talent
hosts
Ant & Dec
have claimed that acts on the show have a tendency to copy previous winners.
Speaking to
The Sun
, the comic duo slammed contestants for apparently using sob stories to progress to the next round.
Ant said: "People think they know how to play it. They watched last year's series and think, 'Ah, Susan Boyle was slightly odd-looking, she didn't look like a singer. If I dress a bit like that and look like I'm not here for an audition, I'll get through'.
"We've seen people who have a 'make-under' just to try and recapture that Susan Boyle moment but it doesn't work like that. You can see straight through it when they turn up with a make-under and a story ready to pounce out. Simon Cowell on the judging panel sees it very quickly and has no patience for it."
Meanwhile, Dec added: "In series two we got a lot of middle-aged portly gentlemen who thought they could sing 'Nessun Dorma' just to be like [first series winner] Paul Potts.
This series we had a guy with a flat cap and oil and dirt all over his hands and he was going, 'Oh my car broke down on the way here. I didn't think I was going to make it'. And you're thinking, 'Go and wash your hands. Stop making a big thing about it'."
"You see it when we interview people and we say, 'What have you come to do for us today?' and they say, 'Well, I've just got out of hospital'. You go, 'Hang on, that's not an act, what's your act?'"
Britain's Got Talent
continues tonight at 8pm on ITV1.