Reality TV News
'BGT' Kev wants Jools Holland collab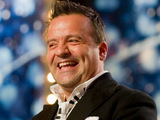 Britain's Got Talent
hopeful
Kev Orkian
has revealed that he would like to collaborate with Jools Holland.
The piano-playing comic, who will appear on this evening's live semi-final, said that he hoped appearing on the ITV show would raise his profile and extend his career.
"Ultimately, to be honest, it is about the longevity of what I do. I love being a comic and all-round entertainer, doing the piano, singing and dancing," he told
DS
.
"I would love to do collaborations with other comics, collaborations with other great pianists like Elton John, Billy Joel and Jools Holland, who would be just the best. That would be ace.
"And to do a one-man show and tour would be the ultimate for me. Playing for a live audience every night, hearing that applause - there is nothing quite like it."
Orkian, who counts Dudley Moore and Les Dawson as his inspirations, will perform a character-comedy musical act tonight.
"I play an Armenian character, who plays the piano and makes a living in England," he said. "The character comes out and doesn't speak good English, he comes out and tries to make people laugh with his take on the English language and the English sense-of-humour.
"It definitely has that Borat feel about it. It's one of those things where you have a foreign character trying to make sense of the English. I suppose the difference between the characters is that for my act, it's all based around the piano. All the comedy revolves around the instrument."
Britain's Got Talent
continues this evening at 7.30pm on ITV1.
> Click here for our full interview with Kev Orkian