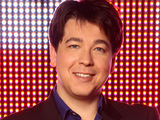 Michael McIntyre
has admitted that he expects Simon Cowell to be critical of the new
Britain's Got Talent
judging panel.
Cowell will return to the ITV1 show when the live shows begin later this month. McIntyre and David Hasselhoff -
who ITV has denied that it plans to axe
- joined the show in January and judged the auditions alongside Amanda Holden.
"Simon will have criticisms," the comedian told
TV Times
. "There'll be lots of footage of him in his sunglasses with his T-shirt a little bit tight, walking along a corridor saying, 'They've ruined my show - who is this comedian? He said he was going to lose weight and look at the state of him!'"
Speaking about his new role, McIntyre confessed that he had been worried about giving his opinions to the hopefuls.
"Coming up with your own opinion is hard," he said. "When I go to see a movie I don't really know if I enjoyed it, so I ask my wife and listen to people talking on the way out. If they all say it was magnificent I'll agree!
"That's what Simon is so good at - he just says exactly what he feels and you do end up waiting for his verdict. The last thing you want is for people not to care about what you have to say."
Britain's Got Talent
continues on Saturday at 8pm on ITV1.
> Simon Cowell tired of 'gloomy' 'BGT' coverage