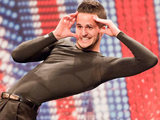 Simon Cowell has announced that ousted contestant
Michael Moral
will be returning to
Britain's Got Talent
.
Cowell made the surprise announcement after saying that he felt the judging panel had made the wrong decision in sending Moral home in favour of Razy Gogonea.
Moral will now get a second chance to impress both the judges and the public when he returns on Friday night's semi-final to perform.
"I think you guys made a massive mistake not putting through one person," Cowell announced. "We're going to invite Michael back on the show tomorrow night.
"He's going to be on the same show as Razy and this time we're going to let the public decide who is the best dancer."
Fellow judge Amanda Holden praised Cowell's decision, and admitted that they had made a definite mistake on last Sunday's show in choosing between the two dancers.
"I had so many people Twittering me and saying there are two brilliant singers and two brilliant dog acts, why can't we have two brilliant dance acts?" Holden said. "I don't really have an answer for that so I think you've done the right thing."
Both Michael McIntyre and David Hasselhoff were equally appreciative of Cowell's decision, claiming that some of this week's poor performances had proved that Moral deserved to be there.
Earlier tonight,
Jai McDowall and Steven Hall secured their places in Saturday's live Britain's Got Talent grand final
.
Britain's Got Talent
continues tomorrow night with the last semi-final show on ITV1 at 7.30pm.
> Britain's Got Talent Semi-Final 4: In pictures
> Britain's Got Talent Semi-Final 4: Live Blog
> Simon Cowell denies Britain's Got Talent fix claim
> Full Britain's Got Talent coverage