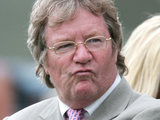 Jim Davidson
has taken a swipe at Amanda Holden, Michael McIntyre and David Hasselhoff, arguing that the
Britain's Got Talent
judging panel lack credentials.
The former
Generation Game
presenter voiced his anger about TV "dumbing down" in a blog post on his official website, telling readers who were annoyed with his remarks to "p*ss off and read
The Guardian
".
Davidson wrote: "
Britain's Got Talent
has got worse. What does that panel know about talent?
"Pretty and talented actress (who married Les Dennis) Amanda, does have a great talent, but be fair love, what do you know about this showbiz lark?"
Davidson added of Hasselhoff and McIntyre: "An American actor who drove a talking car and a superstar comedian with a speech defect who five years ago nobody had heard of."
Speaking about his own rise to fame, he commented: "When Lenny Henry and me did
New Faces
, the show was about the talent. Not about people's lack of talent. It didn't ridicule the useless and mentally impaired.
"It really was about the acts on the show rather than the show itself. We didn't have to sign to any of the producers' or judges' record labels or agencies. We were just left to our own devices."
> Jim Davidson stand-up play is cancelled
> Jim Davidson slams old Bruce Forsyth
> Jim Davidson: 'I don't see racism anymore'