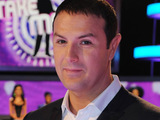 Take Me Out
host
Paddy McGuinness
has said that he is happy to see
Britain's Got Talent
's influence on his show.
The comedian stated that he is enjoying the programme more than ever now that it has been "vamped up" for its newly launched third series.
"The set's been vamped up a bit and I think it's now a mix between a dating show and
Britain's Got Talent
,"
More
quotes him as saying.
"We've had some very elaborate specialist skills from the lads this series. In one episode, we have a 20-foot birthday present lowered from the ceiling, which opens up to reveal a Stevie Wonder impressionist on a keyboard."
However, McGuinness admitted that there were a few downsides to the increased popularity of the show, such as hearing variations of his catchphrases wherever he goes.
"I was at a funeral for this guy I didn't know too well but I wanted to pay my respects," he said. "So I'm stood in the crematorium, and as the coffin's going in this bloke behind me goes, 'Let the ashes, see the urn'.
"I couldn't believe it. I tell the story on tour and people think I'm joking but I'm like, 'No, this actually happened'."
Take Me Out
has come under fire this week following the revelation that contestant Aaron Withers was
convicted of assault and worked as an escort
, while his date Wen-Jing Mo admitted to
prostituting herself in the past
.
> Take Me Out: ITV bosses 'infuriated by totally unacceptable scandals'