The musical director of
Britain's Got Talent
choir
Only Boys Aloud
has claimed that his group got the last laugh over bullies who picked on them for being singers.
Tim Rhys-Evans conducted the Welsh 133-strong group during their audition, which was one of the most tweeted-about moments from Saturday's
BGT
launch.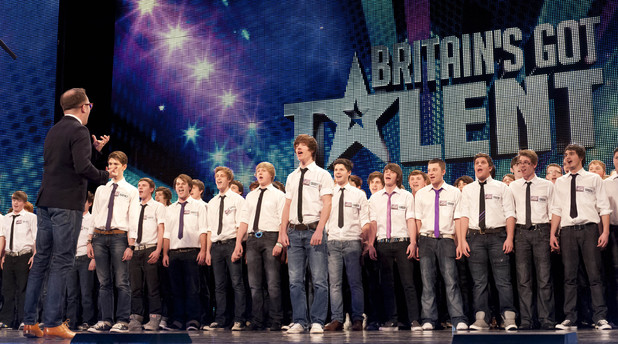 Speaking about why he dedicated his time to working with the group, Rhys-Evans claimed that he was inspired to work with the boys because the group gave them opportunities that nobody else could give them.
"One of the things that is central to the ethos of Only Boys Aloud is to provide extraordinary experiences, trying to provide lifetime memories," he told
Digital Spy
.
"So guys from South Wales Valleys don't have to audition to be in Only Boys Aloud, they just have to be able to get to one of our nine rehearsal venues.
"Just because they come from a part of the world that gets a lot of bad press, it does have its problems of social and unemployment issues, but this group means that they can actually believe in themselves and shows how they can achieve something with their lives."
He added: "I think doing something like
Britain's Got Talent
is so that when they walk into school, they might have been picked on for singing in a choir, but I bet those people who picked on the boys... well, it's our boys who are laughing now."
Only Boy Aloud singer Corey Greenway, 15, said: "If we didn't have Only Boys Aloud, our lives would be pretty boring to a certain extent.
"We get amazing opportunities to perform in amazing places we never would have dreamed of before. I was literally forced into it by my teacher in school and I thought, 'Oh, I suppose, I'll give it a try', and from there on in I've loved every minute of it and I made the most effort to go to every single rehearsal I possibly can, and made a really big effort to learn all the music and get really good at it.
"It's really boosted my confidence as well."
Britain's Got Talent
continues on Saturdays at 8pm on ITV1.
> 'Got Talent' Only Boys Aloud: 'If we lost one member, we would quit'
> 'Britain's Got Talent' Sam Kelly: I was scrounging around before show
Watch Only Boys Aloud's
Britain's Got Talent
audition: