Britain's Got Talent
has seen the return of a boyband that were formerly rejected on
The X Factor
.
The Mend
, consisting of Manchester boys Dean, Chris, Jay and Craig, were kicked out of
The X Factor
last year after it was discovered that they had a manager, which is not allowed.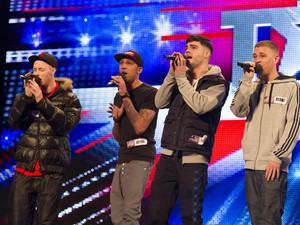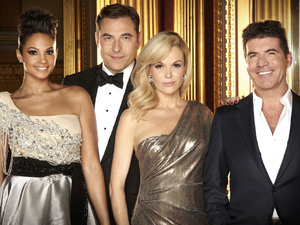 The group later turned up uninvited at the Boot Camp auditions, where producers asked them if they were still managed by Take That agent Nigel Martin-Smith. They admitted that they were, resulting in them being asked to leave a second time.
The Mend auditioned for David Walliams, Simon Cowell, Amanda Holden and Alesha Dixon during tonight's (March 31) episode of
Britain's Got Talent
and admitted that they have had their "problems".
Craig described them as "normal, average" guys from Manchester, with Dean adding: "We all just stick together, we jam. [We're] all on the same level and [when we're] all vibing it's just like, next level, serious."
After bickering over who was going to "do better" during the audition, the group walked on stage. Cowell praised them because they've "stuck" together for three years and asked them what their "dream" was.
Chris said that they want "to be as successful" as possible, with Dean adding: "People, like where I'm from anyway, everyone's in debt like, up to their eyeballs in debt and people sweep to crime, it's not what they want to do."
Craig said that they have "done stuff [they] regret in the past" but added that "that's not what [they're] about" now.
Jay admitted: "We've all got problems at home but we'll keep doing music until we can sort them problems out and that's what we're going to strive to achieve basically.
"We're going to keep doing it until we've made it."
Craig said that they want to use the show to help take them to "that next level".
Britain's Got Talent
airs tonight (March 31) at 8pm on ITV1.
> Stephen Mulhern's Britain's Got Talent Digital Spy blog
> Britain's Got Talent: Erotic dancer Beatrix Von Bourbon auditions
> Britain's Got Talent: Ex runners-up Twist & Pulse return with troupe
View a gallery of the acts performing on the show below: