Dancing duo Twist and Pulse from
Britain's Got Talent
2010 have made a comeback to the show as the directors of a new group.
Ashley Glazebrook and Glen Murphy, who
were the runners-up
on the ITV talent show two years ago, attended the auditions during tonight's episode along with their new dance troupe Twist Dance Company.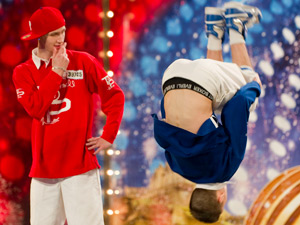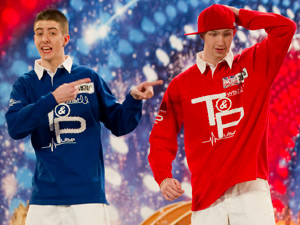 Glazebrook described
Britain's Got Talent
2010 as "the best experience of [their] lives". Since coming second in the competition, they have toured at the O2 Arena and Wembley, but then set up a dance group ranging from aged 12 to 20 and wanted to try their luck again.
Before they walked on stage, member Jade said that they saw how the show "change[d] Ashley and Glen's lives" and thought that it would help them achieve "success and more".
Murphy said that they make their new troupe rehearse their dance routines again and again and "everyone just lays out on the floor" exhausted afterwards. They then discussed who produces the most "sweat" after practising.
On stage,
Simon Cowell
asked Twist Dance Company where they see themselves in five years, and Jade replied that they want "worldwide" success. He then asked if they were good and if they could win the show, to which Jade said: "Yeah."
Britain's Got Talent
airs tonight (March 31) at 8pm on ITV1.
> Britain's Got Talent show two: Burlesque, dogs and xylophones - pics
> Britain's Got Talent: Erotic dancer Beatrix Von Bourbon auditions
> Britain's Got Talent: X Factor reject band The Mend make comeback
> Stephen Mulhern's Britain's Got Talent Digital Spy blog
Watch Twist and Pulse audition for
Britain's Got Talent
in 2010 below: